CLANCY FOR INDIVIDUAL PURSUIT AT MANCHESTER WORLD CUP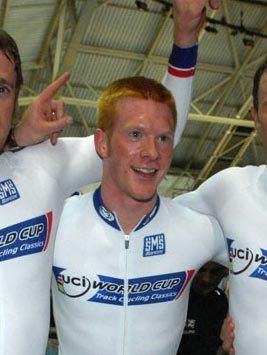 Ed Clancy will be Great Britain's entry for Friday's individual pursuit at the Manchester round of the World Cup.
The team pursuit lynchpin last rode the individual event at the 2007 National Championships, where he was a silver medallist behind Paul Manning. His last race at international level was at the Sydney round of the World Cup in February 2005, where he was caught by Dutchman Levi Heimans with four laps to go. Clancy's time in qualifying was 4-33.
Clancy will also ride the team pursuit, with Rob Hayles, Steven Burke and Geraint Thomas, but he is looking forward to seeing how he does in the individual race.
"It's a while since I did an individual pursuit. I was second at the Nationals last year, but I'd been on the beer for a week after the Tour of Britain," he said.
"I have done absolutely nothing to prepare for it, so it's a case of getting in there and seeing how I go."
British Cycling coach Matt Parker rates Clancy as the best team pursuiter in the world.
"That's nice to hear, but the individual is a different event. It suits riders with more of a time trial style, like Brad [Wiggins] and Geraint [Thomas] than the sprinter, punchier rider like me and Burkey [Steven Burke]. Mind you, Burkey got bronze in the Olympics, so let's see what I can do."
"Brad's and Geraint are doing the Madison, so there's an opportunity for me to do the individual pursuit. I am looking forward to it. It'll be great to race in front of a home crowd."
Meanwhile, Clancy confirmed he has signed for the Halfords team for 2009. He will race on the road with Rob Hayles and the rest of the squad, which is yet to be confirmed, but is rumoured to include Andy Tennant.
RELATED LINKS
Manchester World Cup preview: Who's riding for Britain ? and in which event?
CW's Dummies' Guide to track racing ? We explain how track racing works
British Cycling celebrate success at gala dinner
Every major track result of the 2007-2008 season World Cups, World Championships and Olympic Games
EXTERNAL LINK
Manchester Track World Cup official site for full details of the race programme