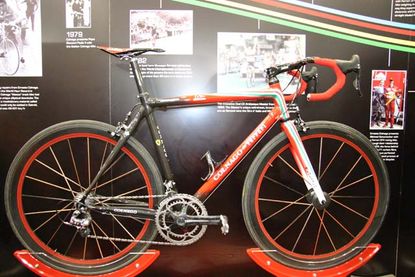 If you own a Colnago, or are thinking about owning a Colnago, then you might be interested in a proposed meet-up with fellow-minded fans of the premier Italian bike brand.
Brian Palmer of the Colnago-obsessed www.thewashingmachinepost.net and www.colnago.cc is in the process of organising a Colnago owners' meeting sometime in 2010, and wants to gauge the amount of interest in such an event.
"I know, principally from the number of emails I receive regarding Colnago frames and bicycles, that there are a fair few of you out there similarly obsessed with Ernesto's finest as I am," says Palmer on www.colnago.cc in his appeal for like-minded fans.
"The downside, at the moment, is that we only really meet up through these black, white and jade green pixels, and it might just be nice to physically bump into each other."
Sounds like a good idea, and it's already got the backing of UK Colnago importer Windwave. If you would like to join in the Colnago fun, email owner@colnago.cc and express your interest.
No date or venue for the meet has been arranged as yet.
External links
Thank you for reading 20 articles this month* Join now for unlimited access
Enjoy your first month for just £1 / $1 / €1
*Read 5 free articles per month without a subscription
Join now for unlimited access
Try first month for just £1 / $1 / €1