Condor Cycles founder Monty Young dies aged 88
Leading figures in British cycling pay their tributes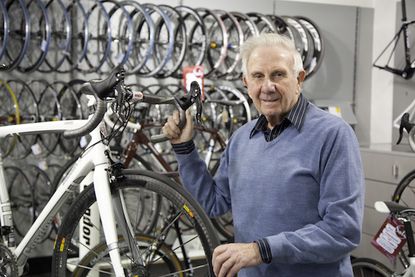 (Image credit: Chris Catchpole)
London bike manufacturer and shop Condor Cycles is mourning the passing of founder Monty Young, who died on Friday just a few days after his 88th birthday, having suffered from Alzheimer's disease for a number of years.
Born in 1930, Young founded Condor Cycles on Gray's Inn Road in London aged just 18, building bicycles and wheels in the cellar below the shop. By the late 1950s he had become involved in racing, taking his Condor neutral service van to anything from local races around the capital to the Milk Race.
He also supported professional teams from the 1960s onwards, with the likes of Colin Lewis, John Herety, Hugh Porter, and Bradley Wiggins all using Condor frames and wheels. And the company is still supporting the JLT Condor team to the present day.
Condor Cycles may have moved premises across the road from the location of the original store, but it is still run by Monty Young's son, Grant, and grandson, Sebastian.
News of Young's tributes prompted tributes from many leading figures in British cycling.
Sadly Young suffered from Alzheimer's disease in his final years, which had worsened in recent months. However in a statement on its website, Condor said that "in true Monty style, he remained characteristically strong until the very end."
Thank you for reading 20 articles this month* Join now for unlimited access
Enjoy your first month for just £1 / $1 / €1
*Read 5 free articles per month without a subscription
Join now for unlimited access
Try first month for just £1 / $1 / €1