Cycling obsessions: The man with 17 Bianchi bikes
Stephan Gubler has a growing collection of Bianchi bikes. The current number is 17 but he is already looking for more - the classic N+1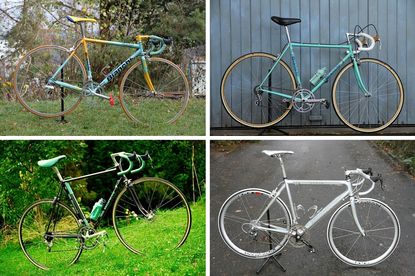 We all like admiring beautiful bikes, almost as much as we like riding them. The fabled N+1 dilemma has led to many cyclists acquiring quite a stable of bikes. Lord Sugar has a growing collection of Pinarellos and Sir Bradley Wiggins has an impressive number of classic bikes.
It isn't just the famous and the super rich that have sought after bike collections. Stephan Gubler, a Swiss freelance journalist (who writes about sporting goods amongst other things), has a remarkable collection of bikes. However, these are not just any bikes, they are exclusively Bianchi.
>>> Bianchi Specialissima review
Gubler has fallen in love with the Italian cycling company that boasts over 130 years of history. Bianchi's distinctive 'celeste' colour scheme is to cycling what Ferrari red is to motor sport.
Gubler told Cycling Weekly that his affection for Bianchi started at a young age.
"When I was a kid, I always walked by a store in Zurich [Switzerland] and they had Bianchi bikes," he said, "I admired them from the beginning."
He explained that the shop had posters of the current Bianchi riders which included their star Felice Gimondi- one of only six riders to have won all three of cycling's Grand Tours.
>>> Which of the favourites does the 2016 Tour de France route favour?
Gubler said he bought his first Bianchi before he was a teenager.
"I was 12 years young. I have no idea which [Bianchi] model it was. All I remember is that it had to be celeste," he said.
When on holiday in south Switzerland and with his parents, they popped over the border to Cannobio, Italy to buy the Bianchi. With that, a passion and obsession for the Bianchi brand was ignited.
Gubler's significant collection of Bianchis, now 17 strong, includes: bikes that are 30 years old, high-end modern road bikes, track bikes, time trial bikes, mountain bikes and a cyclocross bike.
Below are some of the bikes from his stable:
Road Bikes
1979 Super Corsa
The Super Corsa is the oldest bike in Gubler's collection. He bought it to take part in the L'Eroica. However, now that it has been signed by Felice Gimondi he is thinking of using another bike instead.
>>> Top 10 road bike innovations
In an era when ergonomic shifting was just a pipe dream the Super Corsa came equipped with classic down tube shifters. Gubler said it is surprisingly nimble and light for a bike that is 36 years old.
1985 Centenario
The Centenario has an interesting back story. Gubler spotted a picture of the bike on the internet, without wheels and lying on a plastic cover. He contacted the American seller via eBay and bought it immediately.
The Centenario is custom made and comes with a custom bike bag and t-shirt. The frame is not painted but covered in nickel and the gold plated badge has a specific serial number plate. A nice touch is the 'celeste' coloured pump and bottle.
>>> Track pump buyer's guide
1999 Pantani 101
Marco Pantani was synonymous with Bianchi in the 1990s and early 2000s. The 101 is an exact replica of Pantani's 1998 Giro winning bike and, as the name suggests, production was limited to 101.
The Bianchi label is golden and the saddle is decorated with Pantani's nickname "The Pirate."
This was the first bike that Gubler wrote about as a journalist. He explained that this bike is purely for his collection and he has no intention of riding it. "It has never been ridden and never will be," he said.
1999 XL Mega Pro
The XL Mega Pro looks largely like the Pantani 101. It has the classic 'celeste' and yellow colour scheme associated with Bianchi. Gubler actually rides this steed and he uses a trusty pair of Mavic Ksyrium wheels.
2004 928 L'Una
The L'Una is a striking looking bike and is one of the only bikes ever made in white carbon. He said that this beautiful bike was the catalyst for his Bianchi collection. "I guess that bike triggered my collection frenzy," he said.
To complete the white/silver look, ITM made a special finishing kit (seat post, stem and handlebar) to match the white carbon frame.
2006 S9 Matta Ti/Carbon:
As if white carbon wasn't enough, Gubler sought out a titanium bike. He explained that initially Bianchi used Litespeed titanium frames until the company hired welders in Italy to make the full titanium bikes.
He is a big fan of the comfortable and smooth ride provided by the S9 Matta.
"I am surprised about the very smooth ride," he said.
"It feels like a modern bike, a bit like my 2014 Infinito CV."
He does over 90% of his riding on the Infinito, coming with Super Record EPS and FFWD wheels it sounds like a nice ride.
>>> Lighter, stronger, thinner- could Graphene be cycling's next game changer?
2000 XL EV2
The 2000 XL was bought as a brand new unused frame and has been built up from scratch. Although not pictured Gubler said he has built it up with Campagnolo Super Record and black Campagnolo Shamal wheels. He added: "I found another EV2 on eBay and bought it because of its original Pantani saddle."
2011 Oltre Nero
The Oltre Nero is Gubler's most expensive and and arguably most elaborate purchase. It is very light and very fast, but Gubler said a little impractical for him.
>>> Are electronic groupsets necessary?
As shown it comes with Campagnolo Bora wheels and a Campagnolo Super Record groupset. The standard 53/39 crank and 11/23 gearing means that going up hill can be challenging.
>>> Are you using your bike's gears efficiently?
Track Bikes
2012 Pista
Previously a 100m runner, in recent times Gubler has been inspired by track cycling.
The 2012 Pista was no longer in production when he first wanted one, but luckily he found one in a shop in Denmark. Continuing the Italian theme the bike comes with a Campagolo white disc wheel and a spoked front wheel.
2014 Super Pista
He said that the Super Pista was initiated by David Reed from Bianchi USA and is not sold in Europe. As a result, a friend had to bring the track bike resplendent in Bianchi's classic colours over from San Francisco.
Time Trial
2013 Pico Crono Carbon
Bizarrely, the Pico Crono Carbon frame was bought to accommodate the FFWD wheels rather than the other way round. The frame was originally ridden by Team Vacansoleil's Grega Bohle.
>>> How much speed can you buy?
Gubler said it will take some time before he is riding long distances comfortably on this impressive wind cheating beast.
Mountain Bikes
The Bianchi fan also has three mountain bikes. Even when riding off road he chooses to ride Bianchi.
2001 Tycoon Carbon
He informed us that the Tycoon was the first Bianchi mountain bike with a full carbon frame. The bike has Mavic tubeless wheels and Shimano XTR components.
Gubler revealed that Bianchi was not convinced about the frame's durability.
"Bianchi didn't know whether the frame would last and gave me an extra one which is still unused in a box,"he said.
Despite the concerns the frame is still going strong.
2013 Methanol FS 29
The Methanol was Gubler's first full suspension mountain bike. He bought it to take part in a trial of the Swiss Epic, a five day MTB marathon race in Switzerland.
N+1
17 bikes and counting, Gubler's current project is the 2015 Zolder Disc. It is his first cyclocross bike and he understands it to be the only Zolder bike painted in 'celeste'. He plans to fit SRAM Force 1 components and fit DT SWiss wheels.
Despite this incredible collection of bikes, Gubler is still a victim of N+1. He told Cycling Weekly that in addition to saving up for the latest Bianchi super bike, the Specilissima, he would love to own a time trial bike from the Mercatone Uno team (Pantani) era 1999/2000; an all original 110 year anniversary bike; an Infinito tricolour and the Aquila time trial bike to top it all off.
Thank you for reading 10 articles this month* Join now for unlimited access
Enjoy your first month for just £1 / $1 / €1
*Read 5 free articles per month without a subscription
Join now for unlimited access
Try first month for just £1 / $1 / €1