Cycling 'small crimes' are among those most frequently committed in UK
Cycling on pavements and riding without lights at night are among the 40 most common minor laws broken by the British public, finds survey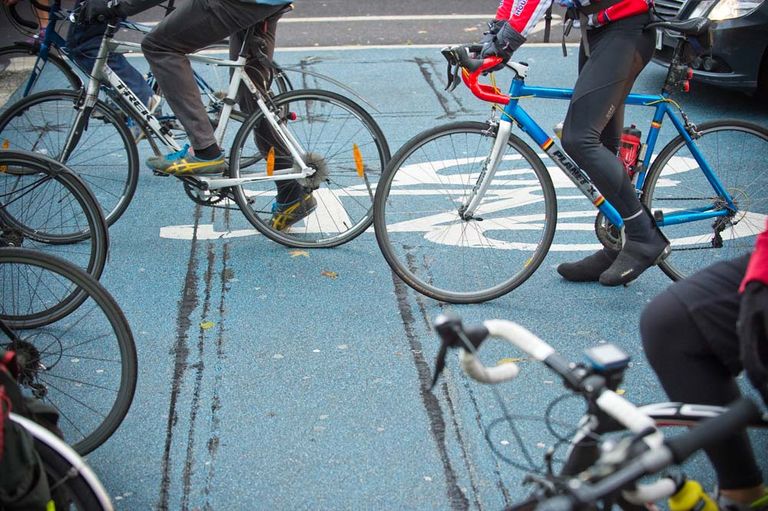 (Image credit: rupert fowler)
Several minor crimes committed by cyclists appear in the top 40 list of crimes most frequently committed in the UK, a new survey has revealed.
Cycling on a pavement, riding at night without lights and cycling through a red light are seventh, 22nd and 35th in the top 40 compiled by OnePoll for BT TV.
According to the results of survey, the law broken by the largest proportion of the British public was singing Happy Birthday in a restaurant. Second was drinking under the age of 18.
Third on the list was something that some cyclists may have done – sworn or gestured to other road users.
>>> Dr. Hutch: The unwritten rules of cycling
The poll also asked those responding whether they thought the laws were necessary, with 67 per cent saying that a range of these offences should be scrapped.
Of the 2000 adults polled in June 2017, 84 per cent said that they were confused as to what is and isn't illegal. Who knew that there is a law restricting the use of a vacuum cleaner?
Cycling through a red light was voted as one of the most frustrating law infringements that people witnessed others committing, along with using a mobile phone while driving and dropping litter. However, just 10 per cent said that they would confront someone if they saw them breaking the law.
The survey was commissioned to mark the start of a new series of TV show Better Call Saul.
Top 10 most frequently broken laws that the British public admit to
As compiled by OnePoll
1. Sang Happy Birthday in a restaurant (48 per cent)
2. Drank alcohol under the age of 18 (47 per cent)
3. Sworn or gestured to other road users (40 per cent)
4. Eaten or drank whilst driving (39 per cent)
5. Vacuumed between the hours of 6pm and 8am on a weekday or 1pm and 8am on a Saturday or Sunday (36 per cent)
6. Parked partly on a pavement (34 per cent)
7. Cycled on pavements (33 per cent)
8. Speeding whilst driving (32 per cent)
9. Beeped a horn for any reason other than alerting traffic (31 per cent)
10. Been drunk on the street, or in a pub or restaurant (30 per cent)