Cyclist jailed for three-and-a-half years after trying to claim £135,000 over fake pothole crash
Luboya Tshibangu found guilty of fraud after trying to make false claim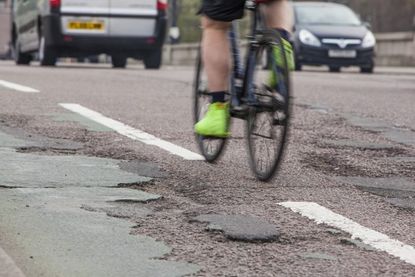 (Image credit: Chris Catchpole)
A man who falsely claimed that he had been injured in a cycling crash caused by a pothole and then tried to claim more than £100,000 in damages off the council has been jailed for three-and-a-half years.
Luboya Tshibangu, 38, tried to claim £135,000 from Cardiff City Council after he fell from his bike in December 2012, fracturing his ankle and leaving him unable to carry out his work in a casino in the city.
Tshibangu claimed that he had fallen from his bike after hitting a pothole on a cycle path near Bute East Dock in the Cardiff Bay area. Blaming the council for the crash, he then submitted a claim for £15,912.91 in lost earnings and £119,861.14 in future loss of earnings.
>>> Britain's pothole crisis: Over 24,000 miles of road need urgent repaid
This initial claim was declined by the council which said that the path had been properly maintained and serviced, before it emerged that a 999 call made by a witness of Tshibangu's crash gave the location as Galleon Way, Atlantic Wharf, around a kilometre away from where Tshibangu had claimed he had crashed.
It also emerged that a GPS tracker on the ambulance that attended the incident showed that it stopped on Galleon Way, while the photos that Tshibangu had taken of the pothole that he claimed had caused the crash had been taken more nine months later.
As reported by Wales Online, Cardiff Crown Court also heard how Tshibangu's actions had had an impact on the council's day-to-day running, with more than £100,000 having to be put aside to cover potential legal fees if his claim was successful which could not be used as part of the council's budget for three years.
>>> This council's tweet to show off how it fixes potholes backfired spectacularly
"The culpability of the defendant is high because the fraudulent activity was sustained over a period time from 2013-2017 and the defendant went through more than one firm of solicitors to pursue the false allegation," prosecutor Heath Edwards told the court.
"There was significant planning on behalf of the defendant who identified an area where he know a pothole exists, went to that site, took photographs of it and instructed solicitors on a number of occasions."
Tshibangu was found guilty of fraud and sentenced to three-and-a-half years in jail.
Thank you for reading 20 articles this month* Join now for unlimited access
Enjoy your first month for just £1 / $1 / €1
*Read 5 free articles per month without a subscription
Join now for unlimited access
Try first month for just £1 / $1 / €1