DAN LLOYD SIGNS WITH SEAN KELLY TEAM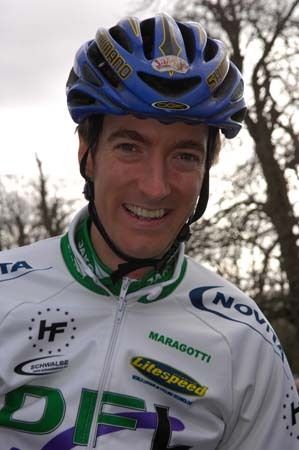 Britain?s Dan Lloyd has signed a contract with Sean Kelly?s continental team for 2008, allowing him to get his career back on track after the collapse of the Pedaltech-Cyclingnews team.
Lloyd was supposed to be the British leader at Pedaltech but when the UCI refused to give the team a Professional Continental licence, sponsors pulled out and the team collapsed. Lloyd was able to get a place in Kelly?s team because An Post ? Ireland?s postal service - came on board as main sponsor in December and Kelly has always been impressed with Lloyd?s racing and attitude.
The Sean Kelly team was created to help Irish riders develop in Europe and thanks to Kelly?s name the team is often invited to important races in Europe and around the world. Lloyd will begin his season at the GP La Marseillaise on February 3 and also ride the Etoile de Besseges races immediately afterwards. The team has also been invited to the Volta ao Algarve stage race which starts on February 20.
Key objectives during the season will be the FBD Insurance Rás, the Tour of Ireland and the Tour of Britain. The team will be managed by Belgian Kurt Bogaerts, and includes Irish riders Páidi O'Brien, Isaac Speirs, Stephen Gallagher and Mark Cassidy.
?I?m really happy to have got a place in Sean Kelly?s team because it?s been a terrible winter for finding places and I?ve managed to find something even after the demise of Pedaltech,? Lloyd told Cycling Weekly.
?The team is only continental but it?s got a good race programme thanks to Kelly?s name and reputation. The team rides Specialized bikes and I?ve already been to Specialized in the UK to get measured up.?
?It hasn?t been easy training during the winter with all the confusion surrounding the future of Pedaltech but I?ve been working hard and think I?m going pretty well.?
?I want to publicly thank two people who have always given me a lot of support. The first is Barrie Clarke from Hotel Collingwood in Bournemouth and then also Nick Collins of DFL. I?m extremely thankful to both of them and if I have a good 2008 and manage to ride for Great Britain in the Olympic road race, then it will also be thanks to them.?
OTHER BRITISH RIDERS LOOKING FOR SPONSORS
The collapse of the Pedaltech-Cyclingnews team has meant the other British riders set to ride for the team in 2008 have been forced to make an appeal to find a sponsor for a possible British team.
David Clarke made an appeal on the internet, revealing that Pedaltech sponsor Mike Matts has been diagnosed with cancer after also being involved in a car crash last Friday while on the way to a meeting in Belgium to decide the future of the team.
"Some riders have found new teams while the remainder of us would like to set up new team to concentrate on the premier calendar and the race scene in the UK, as well as trips overseas,? the message reads.
?The team would comprise of David Clarke, Matt Clinton, Rob Orr and New Zealander Rico Rogers plus possibly some of the other riders from the original line-up who are unable to find other teams. We feel the new team will be in some way a tribute to Mike's efforts to help us. We are confident it will be a strong and competitive team and we expect good results."
Anyone who can help the riders should contact David Clarke via email at: david2clarke@hotmail.co.uk
Thank you for reading 20 articles this month* Join now for unlimited access
Enjoy your first month for just £1 / $1 / €1
*Read 5 free articles per month without a subscription
Join now for unlimited access
Try first month for just £1 / $1 / €1