Dave Brailsford backs UCI's Astana stance
Team Sky boss Sir Dave Brailsford says Team Sky are playing a role in helping the sport move on 'in good health' as Astana looks set to lose its licence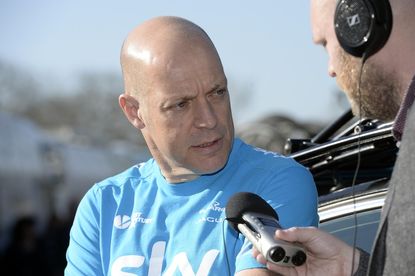 (Image credit: Watson)
Sir Dave Brailsford welcomes the UCI's stance on Astana's WorldTour licence, insisting it is acting in the best interests of cycling's credibility.
Astana have until March 20 to prepare their response to the UCI's request for the Licence Commission to withdraw their right to race, which comes after after the Institute of Sport Sciences of the University of Lausanne returned its audit of team procedures.
Team Sky principal, Brailsford, says Team Sky are playing their role in moving cycling into a new anti-doping era, but insists only the UCI can decide on the best course of action for Astana.
"I welcome the fact we're all under scrutiny," he told Sky Sports News HQ. "I welcome the fact that the UCI have reacted in a strong way. There are criteria that must be met by all teams and we're fighting to put the sport back on the map in terms of credibility.
"I welcome the world govering body's stance but they've got the facts and the details and it's they who have to decide on the best course of action.
"It's a report into the best and what's happened in the past has been well documented. The governing body was obliged to conduct a full review of this.
"We can only manage what we do at Team Sky and it's important we recognise our role in helping the sport in good health going forward. We share how we do it and play our role. Some are looking to the past and we're looking to the future."
Thank you for reading 20 articles this month* Join now for unlimited access
Enjoy your first month for just £1 / $1 / €1
*Read 5 free articles per month without a subscription
Join now for unlimited access
Try first month for just £1 / $1 / €1