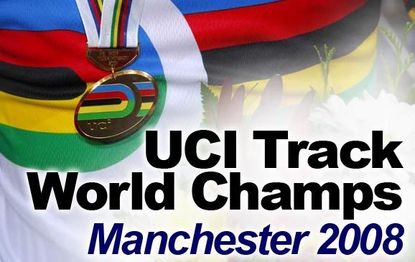 Get The Leadout Newsletter
The latest race content, interviews, features, reviews and expert buying guides, direct to your inbox!
Thank you for signing up to The Pick. You will receive a verification email shortly.
There was a problem. Please refresh the page and try again.
LIVE UPDATES FROM MANCHESTER
Press refresh regularly for latest reports
MEDAL TABLE
After day two
1 Great Britain (4 gold, 1 silver, 0 bronze)
2 France (1 gold, 0 silver, 1 bronze)
3 Cuba (1 gold, 0 silver, 0 bronze)
= Belarus (1 gold, 0 silver, 0 bronze)
5 Netherlands (0 gold, 2 silver, 1 bronze)
6 Lithuania (0 gold, 1 silver, 0 bronze)
= Denmark (0 gold, 1 silver, 0 bronze)
= USA (0 gold, 1 silver, 0 bronze)
= China (0 gold, 1 silver, 0 bronze)
10 Australia (0 gold, 0 silver, 2 bronze)
= Germany (0 gold, 0 silver, 2 bronze)
12 Russia (0 gold, 0 silver, 1 bronze)
Swipe to scroll horizontally
FINAL FOR 5th TO 8th PLACES
5 Jason Kenny (Great Britain)
6 Andriy Vynokurov (Ukraine)
7 Gregory Bauge (France)
8 Theo Bos (Netherlands)
20.29 It was somehow fitting that on a night when British riders won everything, Jason Kenny would take the final for fifth place in the sprint. Bos sat up early, perhaps still smarting from his defeat by Chris Hoy.
Swipe to scroll horizontally
RESULTS
1 Great Britain 33.661
2 China 34.223
3 Germany
20.15 BRITS COMPLETE THE HAT-TRICK It was close. Very close. After the first lap the Chinese had a very slight advantage but a brilliant second lap from Pendleton clinched it. Her form really must be horrific!
20.13 GOLD MEDAL FINAL Shanaze Reade and Victoria Pendleton go for gold against the Chinese Lulu Zheng and Jinjie Gong. Can they make it a clean sweep of gold medals for Britain tonight?
20.11 BRONZE MEDAL RACE The computer timer is on the blink but the Germans shade it against the French.
20.08 HOY KNOCKS OUT BOS A thrilling deciding race. Bos tried to make his trademark dive off the banking to take the inside line but Hoy shut the door. Bos still got the lead but Hoy closed the gap, then got level on the last bend and just - just - got past on the line. His clenched fist salute said it all. He'd beaten the reigning world champion. Chris Hoy is the Boss. Accept no imitations.
So, it's Hoy, Chiappa, Bourgain and Sireau in tomorrow's semi-finals.
20.06 Kevin Sireau makes the semi-finals, where he joins his fellow Frenchman Mickael Bourgain and Roberto Chiappa of Italy. Who will make up the last four. Hoy or Bos?
20.03 So, it's back to the men's sprint. First up the decider between the French, Bauge and Sireau, then it's Hoy versus Bos.
Swipe to scroll horizontally
QUARTER-FINALS
Race-by-race coverage. Best of three wins it.
ROBERTO CHIAPPA (Italy) v ANDRIY VYNOKUROV (Ukraine)
Race 1: Chiappa took it easily ahead of the Ukrainian. Chiappa 1-0 (10.619sec)
Race 2: Chiappa again to clinch his place in the semi-finals. Chiappa 2-0
GREGORY BAUGE (France) v KEVIN SIREAU (France)
Race 1: A rocky, rollercoaster sprint but Bauge got it. Bauge 1-0 (10.744sec)
Race 2: A close contest as Sireau levels it 1-1
Race 3: It was close, again, but Sireau was strongest Sireau 2-1
MICKAEL BOURGAIN (France) v JASON KENNY (Great Britain)
Race 1: Kenny took the initiative and opened a bit of a gap, which Bourgain closed on the final bend. Kenny didn't give up, though, and tried to regain the lead but couldn't beat the experienced Frenchman. Bourgain 1-0 (10.726sec)
Race 2: This time Bourgain led out and forced Kenny to try his luck up the inside on the back straight of the last lap. On the approach to the final bend Bourgain shut the door and Kenny had to switch on the outside. Bourgain crossed the line. There was a delay while the result was confirmed, pending a judge's decision on whether Bourgain changed his line too much. After a long look at the replay the result stands. Bourgain 2-0
CHRIS HOY (Great Britain) v THEO BOS (Netherlands)
Race 1: A cagey first lap, then Bos uses the banking to open a big gap on Hoy. It was a huge gap. Hoy sat up with a lap to go, preferring to save his effort. Bos 1-0 (13.334sec)
Race 2: Hoy levels it with a superb long effort which seemed to die and then surge back into life again as he had the inside line on the final corner. Bos is so quick it looked as if he had it when he got his nose in front. But Hoy, his title hopes on the line, got it. 1-1
Race 3: Hoy is the Boss. Not Bos. Brilliant stuff Hoy 2-1
19.55 It may be my suspicious mind at work but it's definitely cooler in the velodrome now the pursuits are over. They've not turned the air-con on have they?
Swipe to scroll horizontally
RESULTS
1 Rebecca Romero (Great Britain) 3-30.501
2 Sarah Hammer (USA) 3-37.006
3 Katie Mactier (Australia) 3-34.168
19.50 GOLD FOR ROMERO Three years ago she was a world rowing champion in the quadruple sculls. Now she's a world cycling champion in the individual pursuit. Romero was all over Hammer from the start and by 1,000 metres the gap was already two seconds. Hammer, though, couldn't hold the gap and by 2,000 metres it was 3.5 seconds and game over.
19.46 Rebecca Romero lost to Sarah Hammer (USA) in last year's pursuit final. Can she get revenge?
19.44 Sadly for Houvenaghel, history repeated itself as Mactier got the better of her for bronze for the second year running. By 1,000 metres, Houvenaghel was already two seconds down and although she held that gap steady for the rest of the race she couldn't close it.
19.40 BRONZE MEDAL RACE Wendy Houvenaghel, who briefly claimed Rebecca Romero's British record in qualifying this afternoon, before Romero took it back, is up against Katier Mactier of Australia in the bronze medal race. Last year they raced for bronze too, with Mactier winning.
19.37 What an evening here in the Manchester Velodrome. A second gold medal of the championships for Great Britain, and a new world record in the team pursuit.
19.31 If you can stand the excitement, the men's sprint is back on track with the second round of matches.
Swipe to scroll horizontally
RESULTS
1 Great Britain 3-56.322
2 Denmark 3-59.381
3 Australia 4-00.089
19.21 NEW WORLD RECORD 3-56.322 for Great Britain. Australia's record that has stood since the Olympics in 2004 has fallen.
19.17 GOLD MEDAL RACE Great Britain's four start in the back straight to a big roar.
19.14 Well, just as we thought it was a formality for Australia, there was drama. They'd already dropped a man but with two laps to go they had an awful change and the remaining three were suddenly separated. Graeme Brown lost the wheel and for the last lap and a bit they were three individuals riding round the track. They just held it together to win the bronze.
19.12 Midfway through and the Australians are well up. Up in the stands a loud, angry voice is shouting at the Kiwis. "Everything! Everything."
The Aussies look like beating four minutes.
19.10 BRONZE MEDAL RACE
The Aussies are better at cricket, the New Zealanders are better at bungee jumping, they're about equal at rugby.... so how do we sort it out? Beer? Steinlager is definitely preferable to Fosters.
Cycling: Who's the greatest country from Down Under?
19.05 As the sprint competition pauses, it's time for the team pursuit finals. Great Britain face Denmark for gold. Australia and New Zealand fight over the silver. Great Britain's quartet is the same as this morning but they are set to shuffle the order a bit.
This morning the order was Clancy, Thomas, Manning, Wiggins.
Tonight it's set to be Clancy, Manning, Wiggins, Thomas, which is the same order that won the world title in Majorca last year.
Britain will take heart from recent history. At the Copenhagen World Cup Denmark won the qualifying but the Brits had them in the final.
18.50 The men's sprint resumes with the quarter-finals, which are best of three matches. The losers go into a one-off race for fifth to eighth places.
Swipe to scroll horizontally
Last year
Gold Great Britain (Reade, Pendleton)
Silver Netherlands (Hijgenaar, Kanis)
Bronze Australia (Bayley, A Meares)
The British challenge
Shanaze Reade & Victoria Pendleton
QUALIFICATION TIMES - provisional results
1 Great Britain 33.186sec
2 China 33.943sec
3 Germany 34.135sec
4 France 34.165sec
5 Russia 34.867sec
6 Italy 35.41sec
7 Thailand 37.752sec
BRITISH RIDERcolour>
18.45 NEW BEST TIME A new world best time of 33.186 seconds means qualification in first place for Great Britain and sets up a final against China. Germany and France will race for bronze.
BRITISH RIDERScolour>
18.43 The defending world champions, Victoria Pendleton and Shanaze Reade get a rapturous reception from the crowd. They're in the same heat as the French and they're away now. 33.630 seconds was GB's time in the final in Majorca last year.
18.40 NEW BEST TIME China's duo of Jinjie Gong and Lulu Zheng are the first under 34 seconds and the achievement gets a warm round of applause.
18.35 Thailand start the women's team sprint and record a time with 37.752 seconds (not 27.752 as it said a moment ago. I blame dehydration and heat fatigue).
Russia and Italy are in the next heat. Then it's Germany and China, then it's Great Britain and France. Neither of last year's silver and bronze medallist, Netherlands and Australia, have entered.
18.31 Welcome back to the greenhouse. You could grow some lovely tomatoes in here. It's steamy and hot and apparently it's going to get hotter. Doug Dailey of British Cycling reckons it's 26 degrees in here now but I reckon he must be a cold-blooded reptile or something because it feels much hotter. It could make for some good times, though.
WHAT HAPPENED EARLIER?
If you're justing joining is, here's the headlines:
GB qualify second fastest and will face Denmark in the team pursuit final tonight
Rebecca Romero was fastest qualifier in the individual pursuit; Houvenaghel third
Hoy and Kenny are through to the quarter-finals of the sprint. Edgar lost in round one
AFTERNOON SESSION REPORTS
Scroll down for men's team pursuit qualifying, men's sprint early rounds, women's individual pursuit qualifying.
Swipe to scroll horizontally
MEN'S SPRINT 1/8 ROUND
Roberto Chiappa (Italy) beats Kevin Sireau (France)
Gregory Bauge (France) beats Andriy Vynokurov (Ukraine)
Mickael Bourgain (France) beats Shane Perkins (Australia)
Theo Bos (Netherlands) beats Ryan Bayley (Australia)
Chris Hoy (Great Britain) beats Maximiliam Levy (Germany)
Jason Kenny (Great Britain) beats Francois Pervis (France)
16.52 That's all folks. For now. We'll be back at about 6.30pm. Tonight's finals are the women's team sprint, the men's team pursuit and the women's individual pursuit. Also the men's sprint competition continues with the quarter-final matches.
What are the odds on three golds for Great Britain? Pretty short, we'd imagine.
16.42 Francois Pervis wins his repechege as the French sprint machine marches on. He did however knock out his team mate, Kevin Sireau. Bayley trailed in third. The Olympic champion has never been the same since 2004.
16.29 Short break in preceedings before the sprint repechage. That means I can nip out to the loo and get out of this sub tropical environment for a short while. It's hotter than the Eden project's biosphere in here!
16.26 Kenny wins his round against Pervis. The young Brit is a bit of a sprint sensation. How far can he go in this competition? We'll find out later tonight.
16.23 Levy relegated, Hoy goes through! Tough luck for the German, but he should know better than to swing up the banking - especially when up against a national hero on his home track.
16.22 Hoy beaten by Levy, but the German swung up the track, this one will go to the judges.
16.20 Reigning champ Theo Bos gets past Ryan Bayley. Bayley will go in to the repechage rounds
Swipe to scroll horizontally
Last year
Gold Sarah Hammer (USA)
Silver Rebecca Romero (Great Britain)
Bronze Katie Mactier (Australia)
Other Brits Wendy Houvenaghel (4th)
The British challenge
Rebecca Romero
Wendy Houvenaghel
Press refresh for updates. Scroll down for men's sprint qualifying and first round results and men's team pursuit qualifying
QUALIFYING RESULTS - times are provisional
1 Rebecca Romero (Great Britain) 3-29.593
2 Sarah Hammer (USA) 3-31.041
3 Wendy Houvenaghel (Great Britain) 3-31.753
4 Katie Mactier (Australia) 3-32.049
5 Eleonora Van Dijk (Netherlands) 3-32.505
6 Lesya Kalitovska (Ukraine) 3-33.926
7 Alison Shanks (Canada) 3-35.212
8 Maria Luisa Calle Williams (Colombia) 3-35.505
9 Karin Thurig (Switzerland) 3-36.229
10 Verena Jooz (Germany) 3-36.357
11 Vilija Sereikaite (Lithuania) 3-36.375
12 Lada Kozlikova (Czech Republic) 3-37.932
13 Elena Chalykh (Russia) 3-39.084
14 Yelizaveta Bochkarova (Ukraine) 3-40.415
15 Leire Olaberria Dorronsoro (Spain) 3-41.557
16 Tara Whitten (Canada) 3-42.931
17 Tatiana Guderzo (Italy) 3-44.239
18 Min Hye Lee (Korea) 3-44.930
19 Olga Slyusareva (Russia) 3-45.304
20 Svetlana Paulikaite (Lithuania) 3-48.255
BRITISH RIDERcolour>
16.07 NEW BEST TIME Romero breaks Houvenaghel's British record that stood for less than ten minutes with a breathtaking 3-29.593. Sarah Hammer also did an excellent ride, pipping Houvenaghel by the tiniest of margins.
So no all-British final but a good chance of two medals this evening. The velodrome was buzzing for that one.
BRITISH RIDERcolour>
16.05 Can Romero prevent Hammer time? At the midway stage, Romero is on top and it looks like we could have an all-British final.
BRITISH RIDERcolour>
16.03 Houvenaghel's time is a new British record for the 3,000 metre individual pursuit.
BRITISH RIDERcolour>
15.58 NEW BEST TIME Lots of support for Wendy Houvenaghel here. A consistent, even ride which saw her ranked third of all the riders so far throughout the ride, while Mactier was on course for the fastest time.
Then in the final 1,000 metres she stepped it up and moved up to second overall so far.
A final burst over the last three laps saw her overhaul Mactier and top the leaderboard with two riders to go.
She's guaranteed a race for a medal. Could it be the first step to setting up an all-British final?
15.54 Karin Thurig has just finished and is only fifth, so she won't get another ride tonight. Next up it's Wendy Houvenaghel and Katie Mactier.
15.35 MEN'S SPRINT DRAW
The 1/8 final line-up is: Sireau v Chiappa; Bauge v Vynokourov; Perkins v Bourgain; Bayley v Bos; Hoy v Levy and Pervis v Kenny. Those races follow the women's pursuit qualifying and the winners go through to tomorrow's quarter-finals, with the losers going into the Last Chance Larry repechage races to fight for a reprieve.
15.18 Only the fastest four of the 20 riders will qualify for this evening's medal races. Romero and Houvenaghel will be confident but there's some dangerous riders in the field, including Karin Thurig of Switzerland.
15.08 The British interest is in the final two of ten heats. Wendy Houvenaghel rides against Australia's Katie Mactier. Rebecca Romero is in the last heat with defending champion Sarah Hammer of the USA.
Swipe to scroll horizontally
Last year
Gold Theo Bos (Netherlands)
Silver Gregory Bauge (France)
Bronze Mickael Bourgain (France)
The Brits Craig MacLean (4th), Ross Edgar (8th), Matt Crampton (19th)
The British challenge
Chris Hoy, Ross Edgar, Jason Kenny
FIRST ROUND RESULTS
Kevin Sireau (France) beats Tsubasa Kitatsuru (Japan)
Gregory Bauge (France) beats Filip Ptacnik (Czech Republic)
Mickeal Bourgain (France) beats Michael Blatchford (USA)
Theo Bos (Netherlands) beats Lukasz Kwiatkowski (Poland)
Chris Hoy (Great Britain) beats Teun Mulder (Netherlands)
Francois Pervis (France) beats Mark French (Australia)
Jason Kenny (Great Britain) beats Kiyofumi Nagai (Japan)
Maximilian Levy (Germany) beats Sergey Ruban (Russia)
Ryan Bayley (Australia) beats Carsten Bergemann (Germany)
Shane Perkins (Australia) beats Kazunari Watanabe (Japan)
Andriy Vynokourov (Ukraine) beats Azizulhasni Awang (Malaysia)
Roberto Chiappa (Italy) beats Ross Edgar (Great Britain)
BRITISH RIDERcolour>
15.03 The last match of the first round. Edgar versus Chiappa. There was no pussy-footing about at the start, with both riders keen to get on with it. Chiappa had the lead at the bell and he held on to beat Edgar, who mounted a serious challenge but just couldn't get past. That's it for the sprinting for now. Next up Wendy Houvenaghel and Rebecca Romero in the women's individual pursuit.
14.57 A win and a defeat for the Germans as Levy goes through and Bergemann goes out, at the hands of Ryan Bayley.
BRITISH RIDERcolour>
14.50 One of the three Brits in the first round, Jason Kenny, against one of the three Japanese, Nagai. Kenny went very early, before the bell, and held off his opponent. It was a bold move but it paid off.
14.48 There was no doubt the French would win the next race. Aussie Mark French versus Francois Pervis. The Aussie tried to shake Pervis but he was wise to it and nicked it on the line.
BRITISH RIDERcolour>
14.45 The best match so far goes to Chris Hoy. Mulder opened a gap and for a split second there was a worry Hoy had let it go too far but he drew level, then eased past and had time to spare on the line. Classy. Especially against Mulder, who could have been a dangerous opponent.
14.44 After a tactical opening, which saw the two riders creep round the track for two laps, Theo Bos' class told against the Pole.
14.36 Two of the matches done and two easy wins for the Frenchman. Can Mickael Bourgain make it a hat-trick against Michael Blatchford of the USA? The answer - yes. Easily.
14.31 This is where it gets exciting. The knockout matches and this is sudden-death - one race, three laps of the track and the winner goes through.
QUALIFICATION TIMES (provisional)
1 Kevin Sireau (France) 9.992 seconds
2 Gregory Bauge (France) 10.028 seconds
3 Mickael Bourgain (France) 10.029 seconds
4 Theo Bos (Netherlands) 10.032 seconds
5 Chris Hoy (Great Britain) 10.032 seconds
6 Francois Pervis (France) 10.035 seconds
7 Jason Kenny (Great Britain) 10.067 seconds
8 Maximilian Levy (Germany) 10.073 seconds
9 Ryan Bayley (Australia) 10.126 seconds
10 Shane Perkins (Australia) 10.150 seconds
11 Azizulhasni Awang (Malaysia) 10.160 seconds
12 Ross Edgar (Great Britain) 10.178 seconds
13 Roberto Chiappa (Italy) 10.187 seconds
14 Andriy Vynokurov (Ukraine) 10.210 seconds
15 Kazunari Watanabe (Japan) 10.275 seconds
16 Carsten Bergemann (Germany) 10.276 seconds
17 Sergey Ruban (Russia) 10.287 seconds
14.21 Theo Bos, the reigning world champion, equals Chris Hoy's time, which is the fourth best of the day behind the French. The other Brits are Jason Kenny and Ross Edgar, who qualify in seventh and 12th places.
Because Hoy and Bos were tied on time, the jury held a draw to split them. The draw came out in the Dutchman's favour and he will take fourth place for the purposes of seeding the first round matches.
14.19 Gregory Bauge beats Bourgain by the narrowest of margins and with just Theo Bos and the Spaniard to go, the French occupy the top three places.
14.17 Relief for the Germans as Max Levy manages a decent time. Then Mickael Bourgain goes into second place.
14.14 Disaster for the Germans, who are having a bit of a bad time. Stefan Nimke managed just 10.500, which is way, way down the list. Four riders to go now plus the Spaniard.
BRITISH RIDERcolour>
14.11 The third of the British riders, Ross Edgar, does 10.178, enough to qualify for the rounds.
14.10 NEW BEST TIME Hoy's mark lasted until the very next rider - Kevin Sireau of France, who was also the first to break the 10-second barrier with a 9.992.
BRITISH RIDERcolour>
14.06 NEW BEST TIME Chris Hoy sets the new best time of 10.032. Just enough to beat Pervis.
BRITISH RIDERcolour>
14.03 Jason Kenny does a cracking time of 10.067, just behind Pervis.
13.57 NEW BEST TIME Now the big guns start firing. Frenchman Francois Pervis is the new fastest in a time of 10.035 seconds.
13.54 NEW BEST TIME Shane Perkins of Australia set the new best time. A quite surreal note was the old man standing behind the barriers at the north end of the track played Waltzing Matilda on a flute. According to Steve Farrand he's been doing it for years.
13.48 Ruban's time still stands after 20 riders have ridden. We'll pick this up in about ten minutes when the big names start rolling out.
In the meantime, our mole in the pits reports that the British team pursuiters were not thrilled to be beaten but there's confidence that there's more to come. Steve Cummings, who didn't ride in qualifying, is in the thick of things too and has been doing some efforts on the rollers, perhaps hinting at a reshuffle for tonight?
13.36 The qualification heats are underway. There are 44 riders in the field and so far 13 have ridden. The best time so far is from Russia's Segey Ruban. His time for 200 metres was 10.287 seconds.
The only drama so far was when the Spanish rider Hodei Mazquiaran Uria broke his pedal. At first it looked as if he'd pulled his foot off the pedal but in fact the pedal had snapped off at the axle. The jury have granted him a second ride at the end of the qualification.
The three Brits to ride are Jason Kenny (31st of 44), Chris Hoy (36th) and Ross Edgar (38th). Last man will be the defending champion, Theo Bos, of the Netherlands.
Swipe to scroll horizontally
Last year
Gold Great Britain (Clancy, Thomas, Manning, Wiggins)
Silver Ukraine (Polatayko, Polischyuk, Popkov, Schedov)
Bronze Denmark (Jorgensen, Madsen, Morkov, Rasmussen)
The British challenge
Ed Clancy, Geraint Thomas, Paul Manning, Bradley Wiggins, Steve Cummings, Steven Burke
QUALIFICATION RESULTS SO FAR (times are provisional)
1 Denmark 3-57.784
2 Great Britain 3-58.983
3 New Zealand 4-00.833
4 Australia 4-00.947
5 Russia 4-04.310
6 France 4-04.577
7 Spain 4-05-138
8 Netherlands 4-05.302
9 Germany 4-06.941
10 Ukraine 4-07.086
11 Colombia 4-09.960
12 Korea 4-14.157
SECOND FASTEST FOR BRITAINcolour>
13.19 A time of 3-58.983 for the British quartet. Enough for second place and it sets up a fascinating gold medal race with the Danes this evening. New Zealand and Australia ride for bronze in the battle of the southern hemisphere.
13.17 Wearing the all-white skinsuits as the current World Cup champions, the Brits are matching the Danish time so far. At the 3,000m mark they've slipped fractionally behind the Danes.
13.14 So, Britain, the last team to go, need to break four minutes to make the final.
If Britain get to the final, Paul Manning could win his ninth world championship medal in a row in the team pursuit, stretching back to 2000 in Manchester.
13.13 Poor ride by Ukraine. Having lost a rider after about 2,500 metres it was a bit of an uphill struggle from there. They quickly fell away and recorded a time of only 4-07.086. A very disappointing result for last year's silver medallists.
13.09 Ukraine are off and running and their time for the first kilometre is the third fastest of the day so far, so they're a little off the Danes. The Ukraine team is Lyubomyr Polatayko, Maksym Polischuk, Vitaly Popkov and Vitaly Schedov.
13.07 Blistering stuff here considering it's the qualification round, but there can be no holding back for the final two teams, Ukraine and Great Britain. You have to feel for the Aussies though, they've pulled out a very respectable time but won't even get to ride for a medal if the Ukraine and Great Britain do what we expect them to do.
13.05 NEW BEST TIME The track is giving up some good times today. The world record is definitely going to be under threat. Denmark have raised the bar another handful of notches - 3-57.784.
13.01 Now it's Denmark, another team that has improved this winter with some fine World Cup performances, particularly when they won in Los Angeles, where GB were absent. Michael Faerk Christensen, Casper Jorgensen, Jens-Erik Madsen and Alex Rasmussen are their men.
12.59 NEW BEST TIME A flying last kilometre catapulted the New Zealanders above the Australians. 4-00.833. No one can claim to be surprised by the New Zealanders now.
12.58 Our mole reports that the Aussies look quietly pleased with their ride as they warm down. One of the coaches told Graeme Brown: "It's only a qualifier, you've got a bit more than that."
New Zealand are doing a very tidy ride too and after 3,000 metres are second fastest behind Australia.
12.54 Four teams to go now. New Zealand are up next with Sam Bewley, Westley Gough, Hayden Roulston and Marc Ryan. They've been a surprise package in the World Cups this year. Second to Great Britain in Beijing and Sydney over the winter, they're a decent squad and they look great all in black. They're off now and will be followed by Denmark, Ukraine and Great Britain.
12.51 The rumours that the air conditioning would be turned up to try to replicate Beijing conditions seem to be accurate. It's warm and humid in here today. The Germans are on the track and the once great team pursuit squad is a pale immitation these days. Olympic champions in Sydney eight years ago, today they ride round in 4-06.941. Only the Colombians and Koreans have been slower.
Not a good time for Robert Bartko and his team-mates and the Manchester crowd's applause seems to be tinged with sympathy.
BRITISH NEWScolour>
12.49 Bradley Wiggins is in the line-up for the qualification ride, so it's Ed Clancy, Geraint Thomas, Paul Manning and Wiggins.
Our mole in the track centre says they are going to ride to a 3-57.6 time schedule this afternoon and if all goes well they'll be on for a crack at the world record tonight. The world record currently stands at 3-56.610, set in Athens four years ago by the Aussies.
12.48 NEW BEST TIME Close! Australia do a good time but it's not under four minutes. 4-00.947 for them. The best by far today and enough to suggest that Britain can set a very good time here in around 25 minutes' time.
12.46 The second kilometre split was fast too for the Australians and after the third kilometre they're on course to break the four minute barrier.
12.42 Up now are Australia, four-time world champions, reigning Olympic champions and the world record holders (albeit with different line-ups). Today it's Jack Bobridge, Graeme Brown, Mark Jamieson and Bradley McGee.
There's a lone shout from the stands as the Aussies go down the back straight. They've gone out fast, with a first kilometre split of 1-03.875.
12.41 The Dutch had a bit of a sluggish start, never really got going, looked a little ragged and lost a man at the 3,000-metre mark. Fourth place at the moment for them with a time of 4-05.302. Very unlikely to be enough to get a medal ride later.
12.36 NEW BEST TIME The Russians are the quickest so far with a very decent 4-04. They just pipped the French. On the track now are the Netherlands and after that there are six teams to ride, the last of which is Great Britain.
12.30 Welcome to Manchester for the second day of the World Track Championships - and one that could be excellent for Great Britain, with big hopes of medals in all three of tonight's finals, the men's team pursuit, the women's individual pursuit and the women's team sprint.
2008 TRACK WORLD CHAMPIONSHIPS: DAILY REPORTS
Sunday, day five>>
Saturday, day four>>
Friday, day three>>
Thursday, day two>>
Wednesday, day one>>
RELATED LINKS
Women's Keirin: Reed denies Pendleton the perfect finish
Who are Brit's golden nine?
Hoy wins the Keirin
Eighth gold for Britain in the Madison
Gold for Pendleton in the sprint
Chris Hoy wins sprint gold
Pursuit women take fifth British gold medal
Jo Rowsell's gold: the toast of Sutton Cycling Club
Belarussian wins men's points race
Britain going for more gold on Friday
Comment: How many more gold for GB?
Hat-trick of golds for Britain
Britain break team pursuit world record
GB into women's team pursuit final
Gold for Romero in individual pursuit
Reade and Pendleton cruise into team sprint final
Track World Champs: results
Romero breaks British pursuit record
It's Britain vs Denmark in team pursuit final
Britain aiming for team pursuit world record
Britain take silver in team sprint
Crowd step in as French anthem stalls
Hayles denies cheating after failing blood test
Wiggins: "I'm pleased I got the job done"
Wiggins wins pursuit gold
Brailsford defends Hayles after failed blood test
Hayles fails pre-race blood test at Track Worlds
Cycling Weekly's 2008 Track World Championships preview
PHOTO GALLERIES
CW's online gallery section>>
Day three in pictures
Day two in pictures
Day one in pictures
Thank you for reading 20 articles this month* Join now for unlimited access
Enjoy your first month for just £1 / $1 / €1
*Read 5 free articles per month without a subscription
Join now for unlimited access
Try first month for just £1 / $1 / €1
Get The Leadout Newsletter
The latest race content, interviews, features, reviews and expert buying guides, direct to your inbox!
Sports journalist Lionel Birnie has written professionally for Sunday Times, Procycling and of course Cycling Weekly. He is also an author, publisher, and co-founder of The Cycling Podcast. His first experience covering the Tour de France came in 1999, and he has presented The Cycling Podcast with Richard Moore and Daniel Friebe since 2013. He founded Peloton Publishing in 2010 and has ghostwritten and published the autobiography of Sean Kelly, as well as a number of other sports icons.