DINE WITH POULIDOR AND BID FOR CONTADOR'S GOLDEN JERSEY AT RAYNER AUCTION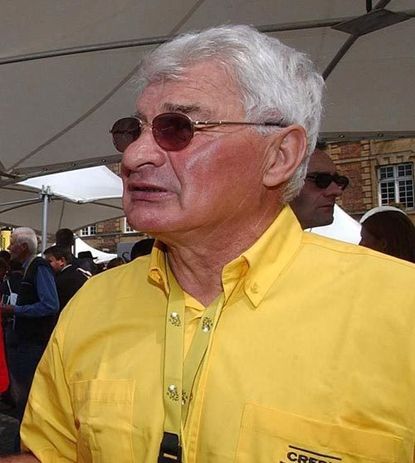 Tour of Spain winner Albert Contador?s golden jersey - signed by the man himself ? will be among many prized items for auction at the Dave Rayner Fund ? 14th Annual Fundraising Dinner in Harrogate on November 8.
Continuing the tradition of inviting cycling greats, the guest of honour this year is Raymond Poulidor. France?s sporting idol whose destiny was to become the ?Eternal Second? in the Tour.
The dinner celebrates the 50th anniversary of Brian Robinson?s 1958 stage victory in the Tour, the first by a Brit.
Robinson, now president of the Rayner Fund, will be joined by several other British Tour stage winners, including Barry Hoban, Michael Wright, Sean Yates, David Miller, Chris Boardman and Mark Cavendish, winner of a staggering four stages this year.
Plus two in the Giro!
Other guests will include show business DJ Jimmy Saville and Tour Riders Stan Brittain, Alan Ramsbottom and Ian Steel.
Tickets for the dinner are £42. Contact Bill Holmes, below.
Want to bid but can?t attend?
Then make a sealed bid in advance of the auction and post it to: Bill Holmes, 6 Brookfield Drive, Littleborough, Lancs, OL15 8RH. Tel: 01706 377069, email billandkim6@hotmail.com.
Auction Items
1.Framed 2008 Giro d?Italia Team Astana jersey signed by the complete team, including Alberto Contador the Giro winner. Donated by Alan Butler, Mechanic with Astana Team
2.Framed Vuelta a Espana 2008 Gold Jersey ? Signed by race winner Alberto Contador Donated by Alan Butler, Mechanic with Astana Team
3.Framed USA National Championship Jersey signed by Levi Leipheimer (National Championships 2007 and 2008) with Astana baseball cap Donated by Alan Butler, Mechanic with Astana Team
4.Liquigas team jersey and baseball cap signed by British Pro Charlie Wegelius Donated by Alan Butler, Mechanic with Astana Team
5.From the 2008 Giro d?Italia Astana team car plaque from Team Time Trial and Giro tour route road book both signed by Alberto Contador. Donated by Alan Butler, Mechanic with Astana Team
6.Formula 1 Grand Prix Team Red Bull flame retardant racing suit ? Signed by team members Mark Webber and David Coultard (this suit belonged to Mark Webber and cost over 5,000
7.Pinarello Galileo Road Bike ? Carbon forks, Ultegra SL group, carbon compact chainset, Shimano 550 wheels,
8.Sabeth (Sunday) Bicycle Co Road Bike ? Titanium frame, Easton Carbon Forks, Campagnolo Veloce group, Mavic Askium wheels. This will be built to your size.
9.2008 Tour of Britain Green Points Jersey signed by the winner Matt Goss
10.2008 Tour of Britain Yellow Leaders Jersey signed by the winner Geoffroy Lequatre
11.2008 Tour of Britain Polka Dot KOM Jersey signed by the winner Danilo Di Luca
12.2008 Tour of Britain White Jersey Under 23 Jersey signed by the winner Edvald Boasson Hagen
13.Framed Olympic Jersey signed by Mountain Biker, Liam Kilean
14.Quick Step 2008 Team Jersey signed by Tom Boonen
15.Vuelta Race Manual, signed by the Lotto Team 2008
16.Signed Chris Boardman action picture from Tour de France prolog
17.Painting of The Big Five Tour Winners ? Armstrong, Anquetil, Merckx, Hinault and Indurain
18.Silver necklace with cubic Zirconia 70 stones set in flower design (retail value over £200)
19.Patterson 1940s drawings ? 4 portfolios totalling 30 drawings
Thank you for reading 10 articles this month* Join now for unlimited access
Enjoy your first month for just £1 / $1 / €1
*Read 5 free articles per month without a subscription
Join now for unlimited access
Try first month for just £1 / $1 / €1
Keith Bingham joined the Cycling Weekly team in the summer of 1971, and retired in 2011. During his time, he covered numerous Tours de France, Milk Races and everything in-between. He was well known for his long-running 'Bikewatch' column, and played a pivotal role in fighting for the future of once at-threat cycling venues such as Hog Hill and Herne Hill Velodrome.