Dowsett happy with world class ride in Under 23 TT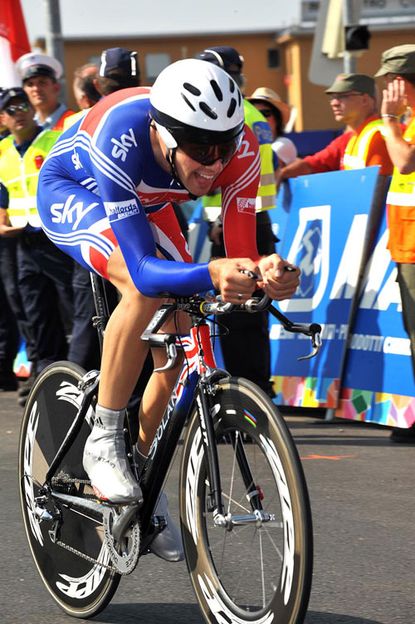 Last year in Varese, Alex Dowsett was very disappointed with his ride in the men's Under time trial but this time he was all smiles after getting everything out in his ride and finishing seventh.
It was a world class ride. Jack Bobridge (Australia) won the rainbow jersey with a time of 40-44 but Dowsett was just 43 seconds slower. He was only 17 seconds from a medal.
First year under 23 rider Andy Fenn finished 45th at 3-10 after a late call up to replace the sick Steven Burke.
"For the last month, I've had nothing on my mind but today, totally and all for today," Dowsett said emotionally and rightly proud of his performance.
"I'm glad it's come together today after last year, when it all went wrong on the day. I knew it was touch and go for a medal but to be honest, whatever the result, I'll be quite happy. I didn't have anything more to give."
Dowsett wanted to thank new Under 23 Academy coach Paul Manning. The Beijing gold medalist only began coaching three weeks ago but the obviously had an affect.
"I've got Paul Manning to thank. I did a lot preparation myself but then Paul Manning came on board, when he was appointed coach," Dowsett said.
"He was great. I went well in the nationals and realised that whatever I was doing, I was doing it right. I filled him on what I was doing and carried on under Paul's guidance. We were on the phone twice a day and discussing training, and tweaking things. That's all you can do with two weeks ago."
With Team Sky in 2010?
Dowsett is not expected to be with the Under 23 Academy in 2010. His name has been linked with several British teams for but his performance in Mendrisio proves he should be considered for Team Sky.
He does not have the results of Pete Kennaugh but he would surely be a valuable member of the team. He is reliable and mature beyond his years.
"I'm third year (Under 23) and I'm well aware that in cycling terms, I'm getting old to turn pro," he Dowsett said.
"I've had talks with teams and they said they'd see how I go in the worlds. I've had problems this year but I've got it in me, I'm capable of doing it and I will do it."
Fenn predicts Wiggins-Cancellara duel
Andy Fenn was satisfied with his ride. After riding two laps of the course he confirmed that the course is for pure time trialist and that predicted that Thursday's men's event will be a battle between Cancellara and Wiggins.
"It went okay and it was a pretty hard course. I haven't done a lot preparation and was only pulled in five days to go. I just came into it and see how to do it. It's good experience for the future. Hopefully it'll help me next year and in the future."
"The course is pretty good and suits a proper time trialist. If you do a lot of preparation and are going well, it's going to show on this course. It's full on all the way round. I' not that technical and the corner are all fast, you just need a bit bottle. I'd obviously pick Wiggins but it's made for Cancellara but Wiggins will do a good ride."
Fenn chooses Scotland for Commonwealth Games
Fenn has now finished his season on the road but only has a week off before getting on the track. He as a chance of riding the team pursuit at the track World Cup meeting for Great Britain.
He also has an eye on the Commonwealth Games in India in 2010. Although born in Hertfordshire, Fenn's mother is Scottish and he has agreed to be part of the Scotland squad.
"I'm going to train with the team pursuit squad and I just hope to try and get a ride. I like riding on both the track and the road and don't think it does any harm."
"It's been a big learning experience. I rode the Baby Giro and the Tour de l'Avenir and learnt a lot. I had more of a team role this year but hopefully I'll get more chance when some of they move on."
Road World Championships 2009: Related links
Road World Championships 2009: Cycling Weekly's full coverage index
Thank you for reading 20 articles this month* Join now for unlimited access
Enjoy your first month for just £1 / $1 / €1
*Read 5 free articles per month without a subscription
Join now for unlimited access
Try first month for just £1 / $1 / €1