Dr Hutch: An e-bike can be your friend, not your enemy
Dr Hutch finds that there is something very appealing about riding a bike fitted with an electric motor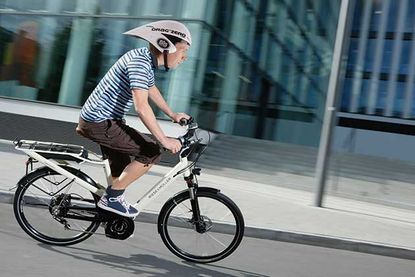 (Image credit: Alamy Stock Photo)
If I read a headline this year that I like better than 'Christophe Bassons in car chase with motorised-bike cheat' I will count myself lucky.
In case you need reminding, Bassons was the rider forced out of cycling by Lance Armstrong (and assorted others) after writing a series of newspaper columns that described the depth of doping in the pro peloton.
Sadly, the miscreant was also in his car, not thundering along the motorway at 100kph on a bike, accompanied by a suspicious high-pitched whine. But all the same, the thought of this man, the whitest of the white-hats, in hot pursuit like the Dukes of Hazzard with thermal-imaging capability, was intoxicating.
I also had an exciting run-in with an e-biker recently. It lacked the caped-crusader element, but I did still quite enjoy it. I was noodling through London on my Brompton, when I was overtaken by a rider on an illegally de-limited e-bike, doing about 30mph.
>>> Dr Hutch: Seven great acts of cycling stupidity
He made a rude gesture as he passed and shouted "Wanker!" at me, and then, as he was still looking over his shoulder, rode into the back of a parked taxi with a loud crunching noise.
The taxi driver rapidly took things in hand, making sure the man wasn't concussed by checking he knew his name.
"What's your name, you stupid little ****?" were his exact words as I recall. He wisely made sure he couldn't move and risk further injury by kicking his wrist out from under him as he tried to get up, and checked that the man knew where he lived.
Power without pain
For a long time the joke in the cycle industry was, "Next year will be the year of the e-bike, and it always will be." But suddenly they are everywhere, from the high street to the high Alps.
In a spirit of investigation, I decided to try one. And, embarrassing though this is to admit, I rather liked it. I'd always kind of thought it would be like riding a moped. But the power just feeds in automatically. You pedal, and the motor quietly gives you a bit extra. Attack the pedals away from the lights, and you get double the acceleration you deserve. After a while you start to forget it's the bike, and think it's you.
It is deeply flattering. It's like having a bike that whispers, "Mmmm yes, you've still got it. So fast. So smooth. Chris Froome? Geraint Thomas? Oh, Michael, they have nothing compared to you. Just look at how fast you're going, for so little effort."
I kept thinking dark thoughts, like, "I could leave blokes on full-carbon road bikes standing at junctions. I could ride this to a meeting, and not arrive in a sweaty heap. I could even give up training and still get round my three-hour training route in three hours."
Of course the latter hope is a vain one, at least within the law, since e-bikes are limited to 25kph and even these days my ambitions are a bit faster than that. But all the same, if I could save a bit of energy on the way from 0 to 25kph, I could use it later on for something else.
This is how the bike wanted me to think. The best years of my life. Twenty hours a week training. Sleeping in an altitude tent. All adding up to a few hundred pounds' worth of electric motor and a battery. "Don't worry," says the bike. "You go and have a nice lie down and eat some cake."
Did I really want all the benefits of training — the speed, that wonderful feeling of lightness, the ability to embarrass friends and clubmates — without the self-righteousness that comes from having got it with good honest hard work?
Actually, now you come to mention it...
Thank you for reading 5 articles this month* Join now for unlimited access
Enjoy your first month for just £1 / $1 / €1
*Read 5 free articles per month without a subscription
Join now for unlimited access
Try first month for just £1 / $1 / €1
Michael Hutchinson is a writer, journalist and former professional cyclist. As a rider he won multiple national titles in both Britain and Ireland and competed at the World Championships and the Commonwealth Games. He was a three-time Brompton folding-bike World Champion, and once hit 73 mph riding down a hill in Wales. His Dr Hutch columns appears in every issue of Cycling Weekly magazine
As a writer, he wrote the award winning The Hour about his attempt on the sport's most famous and sought-after record. He followed that up with Faster, about the training, the science the genetics and the luck behind the world's fastest riders, and Re:Cyclists, a history of cyclists from 1816 to the present day.
He's written for outlets ranging from Cycling Weekly to the New York Times, and has presented and and commentated for the BBC, Eurosport, Channel 4, and Sky Sports.
Before he did any of that he was a legal academic at Cambridge and Sussex universities. He now lives with far too many bicycles in London and Cambridgeshire.