Dutch solar-powered cycle path branded a 'stupid idea'
Dirt and shading could mean that a stretch of Dutch cycle path made of solar panels could prove useless for energy production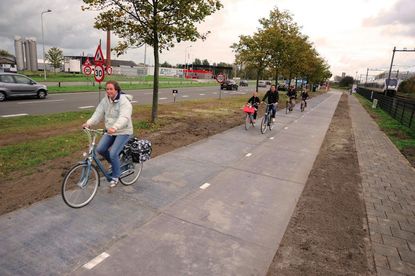 A cycle path in the Netherlands that generates enough solar energy to power street lamps and possibly two houses has been branded a "stupid idea".
The Guardian reported last week how Krommenie, 24 kilometres north of Amsterdam, had installed a 70-metre cycle path with solar panels beneath it that would be monitored over the next three years to determine if the scheme should be expanded across the country and beyond.
But Renewables International, a German energy news and analysis magazine, says that dirt on the cycle path will "dramatically reduce power production" and "since the panels are also on the ground and will be ridden across by bicycles constantly, they will probably need to be cleaned several times daily."
Craig Morris, the author of the piece, added: "The Guardian article says that simply lying them flat rather than at an optimal orientation (of around 30 degrees, which the article does not say) means that the panels produce 'roughly 30 per cent less energy.'
"I'm going to guess that the dirt, tempered glass and shading reduce power production far more, probably by something closer to 100 per cent (meaning >65 per cent). Without the roughed up glass, people would probably be falling off their bikes quite frequently.
"The roads [in the Netherlands] need roofs. Solar roofs. You could put up a solar roof over a bike path, provide protection from the rain (most of the year) and the sun (a few days a year), and actually generate a decent amount of electricity.
"Cyclists would not shade the panels, not as much dirt would build up on the panels if they are three metres up, and you would have a much less expensive, safer bike path underneath."
The article goes on to assert that the Dutch authorities do not possess an accurate figure of how many photovoltaic panels are in the country, the device that converts energy from sunlight directly into electricity.
Thank you for reading 20 articles this month* Join now for unlimited access
Enjoy your first month for just £1 / $1 / €1
*Read 5 free articles per month without a subscription
Join now for unlimited access
Try first month for just £1 / $1 / €1