Elliott wins Tour Series round in Durham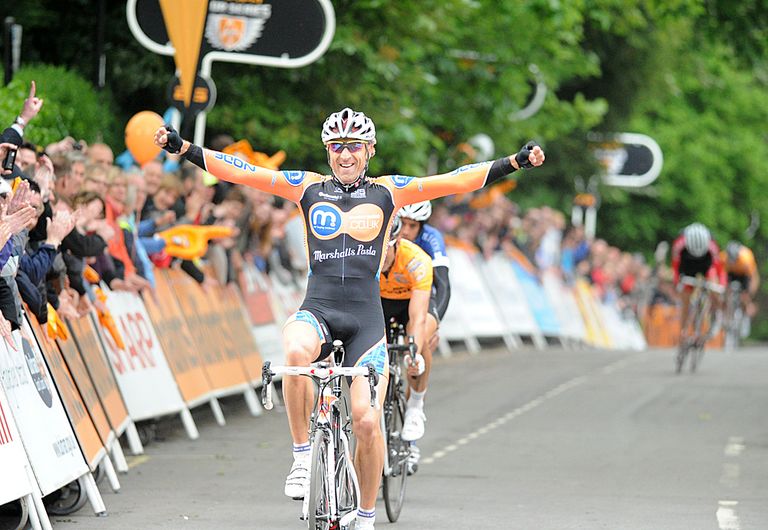 Malcolm Elliott mastered the cobbled streets of Durham to take the second round of the 2010 Tour Series on Thursday evening.
The 1.3-mile Durham circuit on the west side of the River Wear took in a cobbled climb which was approached from a fast partially cobbled descent in to a hairpin bend.
The narrow technical course caused a few problems with several crashes and allowed a break to get away in lap three. It included Malcolm Elliott, Andy Tennant, Kristian House and Darren Lapthorne.
The escapees were joined at about quarter distance by David Clarke and Gareth Montgomerie. They were able stay away from a fragmented race behind. Elliott was able to come out of the last bend in to the finish by Durham School the better to take the sprint from Kristian House and David Clarke.
"That was the longest hour in my life, it was absolute purgatory," said a jubilant Elliott after the race. "If every sort of obstacle you could have on a crit course it was all here. It was comical almost to how hard and how action packed it was.
"I knew it was vital to stay at the front. You came round that bottom corner and I'd hate to have been any further back than five or six. It was the best place to be in the break by far. It was fear, fear of being swamped in the back that put me in the front."
RESULTS

Tour Series 2010, round 2: Durham

1. Malcolm Elliott (Motorpoint-Marshalls Pasta)
2. Kristian House (Rapha-Condor-Sharp)
3. David Clarke (Pendragon-Lecol)
Round 2 team winners
1. Motorpoint-Marshalls Pasta
2. Rapha-Condor-Sharp
Tour Series Team Leaders
1. Rapha-Condor-Sharp 19 points
2. Motorpoint-Marshalls Pasta 18 points
3. Endura Racing 15 points
4. Team Raleigh 12 points
5. Sigma Sport-Secialized 12 points
Malcolm Elliott on the cobbles
Durham streets are tough
Ian Wilkinson leads the chase
Malcolm Elliott wins
Kristian House in the sprint leader's jersey
Related links
Tour Series 2010, round one: First blood to Rapha