Endura Racing team officially launched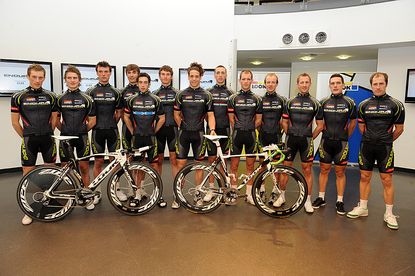 The Endura Racing team officially launched its 2010 line up at the Porsche Experience Centre within the Silverstone Racing circuit on Friday morning.
The Porsche Centre was an ideal setting with the theme of speed and performance carried through to the presentation. Endura, the Scottish based clothing company, have been a long time sponsor of cycling but this year sees them step up another level.
Rob Hayles is rider manager of the 15-man team, which includes frenchman Alexandre Blain and two New Zealand riders, Jason Christie and their national road champion Jack Bauer.
The team's early season starts with the Tour of the Med, Haut Var and Tour of Murcia.
Endura Racing 2010 team roster
Alexandre Blain (Fra)
Alexander King (Eng)
Gary Hand (Sco)
Rob Partridge (Wal)
Callum Wilkinson (Sco)
James McCallum(Sco)
Evan Oliphant (Sco)
David Lines (Sco)
Ross Creber (Sco)
Scott Thwaites (Eng)
James Moss (Eng)
Ian Wilkinson (Eng)
Jason Christie (Nzl)
Jack Bauer (Nzl)
Rob Hayles (Eng)
The full line-up of the 2010 Endura Racing team
Ian Wilkinson checks over his team bike
Thank you for reading 20 articles this month* Join now for unlimited access
Enjoy your first month for just £1 / $1 / €1
*Read 5 free articles per month without a subscription
Join now for unlimited access
Try first month for just £1 / $1 / €1