Endurance cyclist gets invited to royal wedding; smashes 14,000 mile world record in order to make it back in time
Dean Stott knocks more than 17 days off previous world record for cycling the length of the Americas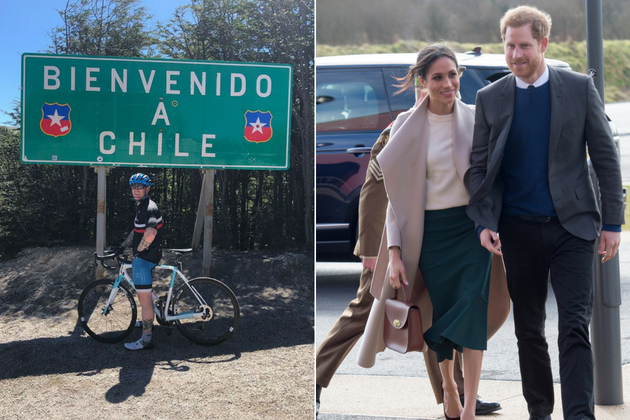 (Image credit: Facebook/Rex/Shutterstock)
It's always annoying when life gets in the way of your cycling and you have to cut a ride short, but Dean Stott's attempt to ride the length of the Americas was interrupted in a rather unusual way which also helped him to break a new world record.
A former Special Forces soldier, Stott said off from the tip of South America with the aim of riding all the way to Alaska in 110 days, in the process hopefully beating the previous record of 117 days.
>>> British rider Sean Conway sets new record for fastest unsupported crossing of Europe by bike
If he had stuck to his schedule then he would have completed his attempt on May 22, but as he crossed the border into the USA he received a call from his wife to say that they had been invited to the wedding of Prince Harry and Meghan Markle on May 19.
"I did the South America phase and took 10 days off that world record, so I knew I was in a good position," Stott, who was attempting the world record to raise money for the mental health charity Heads Together which was co-founded by Prince Harry, told the Evening Standard.
"Then the day after I got into America, my wife rang me to tell me we were being invited to the royal wedding.
"If I originally went for 110 days it would have been on day 107, so I literally had to give up my rest days and start pushing out some big miles - that was another incentive.
"I was quite comfortable knowing I had broken the world record, but it was just like 'right, now you need to get to the wedding'."
>>> Mark Beaumont's ultimate endurance masterclass
Stott eventually finished in Alaska on Saturday morning, knocking more than 17 days off the previous record with his time of 99 days, 12 hours and 56 minutes and leaving him with just a week to get home, have a shower and a shave, and get suited and booted for his date at St George's Chapel in Windsor.
41-year-old Stott first met Prince Harry when they spent six weeks training together in the armed forces in 2007. His world record ride has now raised more than £500,000 for Heads Together, which will hopefully earn him a warm welcome from Harry at the reception on Saturday.