Exploding saddle prank catches thieves unawares, and more of the best cycling videos
These serial pranksters have come up with a new way to catch out would-be thieves, plus a round-up of the best videos from around the internet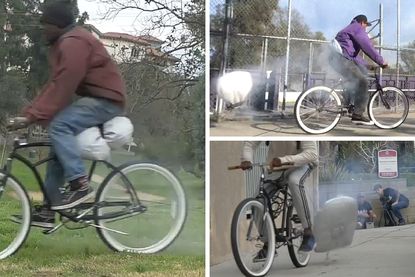 This isn't the first time we've seen these pranksters catching out potential bike thieves with rigged bikes. Previously, people were caught out by a bike tied to a tree and one that gave the culprit a nasty shock when they tried to ride off.
In this video, the team from TwinzTV in the US have found an even more extreme way to get back at the people trying to nick their bike. Watch to the end for the best bit of karma.
Simulated close passes for Brazilian bus drivers
As part of the their training, these Brazilian bus drivers are put on static bikes whilst colleagues driv buses past them at speed and in close proximity.
Much like exchanging places intiatives in the UK, where cyclists can get in the cab of a lorry to learn all about blindspots whilst lorry drivers can take part in Bikeability training, this training initiative offers the bus drivers a glimpse of what it's like to take to two wheels.
Five ways to eat for weight loss
Cycling is a greta way to get fit and helathy, and for those taking it a bit more seriously keeping your weight in check can really boost your riding.
This video shows you five easy steps to take to lose weight steadily over time.
Milan-San Remo
The first Monument of the year is this Saturday, March 19 in the shape of Milan-San Remo. The race will be a big target for many of the peloton's top names and here is our essential guide to the Italian race.
Trek-Segafredo look ahead to the Classics
https://www.youtube.com/watch?v=rlGK6WEKc0E&feature=youtu.be
Continuing the Classics theme, here's a video from Trek-Segafredo looking ahead to the best races of the year. Featuring heavily is Fabian Cancellara who will be looking to add to his tally of three Tour of Flanders wins and an equal number of Paris-Roubaix victories.
Thank you for reading 5 articles this month* Join now for unlimited access
Enjoy your first month for just £1 / $1 / €1
*Read 5 free articles per month without a subscription
Join now for unlimited access
Try first month for just £1 / $1 / €1
Jack Elton-Walters hails from the Isle of Wight, and would be quick to tell anyone that it's his favourite place to ride. He has covered a varied range of topics for Cycling Weekly, producing articles focusing on tech, professional racing as well as cycling culture. He moved on to work for Cyclist magazine in 2017.