This amazing home-made system allowed cyclist to 'ride' the length of Britain in virtual reality (video)
Aaron Puzey created his own virtual reality system connected to an indoor training bike so that he could 'ride' from Land's End to John o'Groats at home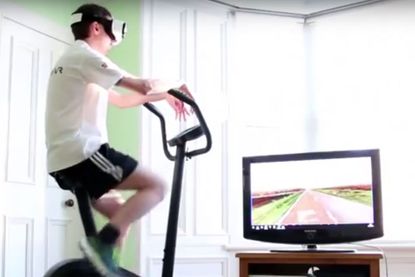 (Image credit: Cycle VR)
Aaron Puzey is claiming to be the first person to cycle the length of Britain in virtual reality.
Puzey of Dundee created a VR headset connected to his home cycle trainer via a smartphone app that he wrote, and undertook a virtual journey from Land's End to John o'Groats.
The system uses 360° images from Google Street View, but Puzey had to access 'hidden' data within the system and upload everything to his software to create seamless panoramic images.
Cadence data from his cycle trainer is transferred to the app running the VR system via a Bluetooth connection so that it knows how fast to travel.
>>> Watch: Motorcyclist riding in cycle lane falls off while trying to intimidate cyclist
The trip took him 85 hours of pedalling on his home trainer spread over an eight-month period, and estimates that he burned around 50,000 calories in the process. He completed his quest on January 13.
Puzey – who works for a digital games company in his day job - has called his system Cycle VR, and there has been so much interest from the public that he is going to raise money via crowd-funding website Kickstarter and make it available to buy.
"I'm currently thinking that the final package will be a complete virtual reality kit that allows you to cycle anywhere in the world from your living room," says Puzey.
"There's loads of stuff I still need to work out before I can launch this and I'd love to hear from people about how they might use this or what features they'd like to see."
https://www.youtube.com/watch?v=t0TNiDNbUDc
Each day that Puzey used his system, he uploaded a video and diary entry on his blog and Facebook. He then created a sped-up compressed version from hours and hours of footage, which you can watch above.
Puzey also took screengrabs of anything of interest that he 'saw' while on his trip, and it's quite amazing what has been captured by the Google Street View cameras, including a punch-up between two men in Edinburgh.
Puzey is considering where to 'ride' next: it could literally (or virtually) be anywhere in the world.
Thank you for reading 20 articles this month* Join now for unlimited access
Enjoy your first month for just £1 / $1 / €1
*Read 5 free articles per month without a subscription
Join now for unlimited access
Try first month for just £1 / $1 / €1