Former Giro boss still hoping for vindication as missing funds case drags on
Michele Acquarone left frustrated as judge overseeing case changes and hearings restart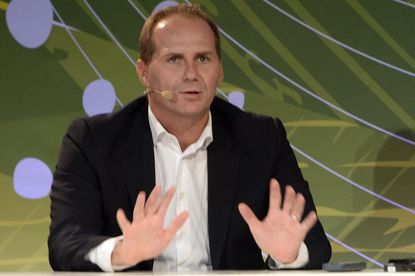 (Image credit: Watson)
Italian Michele Acquarone, former RCS Sport manager in charge of the Giro d'Italia, is still hoping for vindication in the €15 million fraud case that saw him fired, but is stirred by the slow legal proceedings in Milan.
Clarity may arrive slowly in the country known more for its pizza and prosecco than its speedy legal proceedings. And as Acquarone and his lawyer said, the RCS case is taking an "unreal" twist.
>>> Italian police arrest team manager, director & pharmacist after death and ban of under 23 riders
For the second time, the judge is changing and due to Italian law, the hearings have to start from zero. For Acquarone – maintaining innocence since being fired four years ago from the media and events organisation group – it's frustrating.
"I don't know if this is normal for Italy. I agree that justice is slow, but this is unreal," he told Cycling Weekly.
"Nothing has happened in four and a half years, only RCS fired me. I hoped that the process would happen quickly, I have a clean conscience, I hoped at least for a quick process. The only thing I'm guilty of is seeing something wrong and reporting it."
In the legal papers, former administration employee Laura Bertinotti is accused of taking "over €15 million." Much was withdrawn from bank machines or with slips, with her signature, in cash.
She quit as soon as Acquarone discovered the problems going on at RCS Sport. By chance, he saw some financial papers that showed €60,000 missing. When he brought that to the attention of the company, he lost his job and the Italian financial police uncovered much more – millions not thousands – missing.
"With Acquarone, it's terrible, he's seen as guilty, and normally a dragged out case could be good if you are truly guilty, but he wants clarity and an end to this," Acquarone's lawyer Andrea Garello said.
"It's always a penalty for the innocent. I am not judging this, but for someone like Laura Bertinotti it's different considering all the money she took, and her name is on the papers signed."
From different events RCS Sport organised, money disappeared. From the Milano Marathon, €1.75 million went missing.
"OK, it's known all over the world that the Italian legal system is slow, I agree," continued Garello. "Now, it's very different. I've been a criminal lawyer for 30 years, and in that time we've seen it happen only once before where a judge was changed twice. This is exceptional.
"We see judges changes more often now with because many are near retirement age and many of the new ones being assigned start in Milan. And again, because of the laws, with three judges on these cases, all must be presiding over the case from the start. So, you have to restart when one new one joins."
http://www.youtube.com/watch?v=WWVoFpEyh_I
After the preliminary phase, the case hearings began in June 2016. Now, they start over with new judge Giuseppe Fazzio.
Behind ASO with the Tour de France, RCS Sport is cycling's largest cycling organiser with the Giro d'Italia, Tirreno-Adriatico, Milan-San Remo, Lombardia and other events.
Acquarone had been with within RCS for 13 years, taking on a greater role in the summer of 2011 after Angelo Zomegnan left.
In October 2013, RCS Mediagroup began making several changes. It fired Michele Acquarone in December, and replaced chairman Flavio Biondi for Raimondo Zanaboni.
Media relations director Matteo Pastore, administration employee Laura Bertinotti and CEO Giacomo Catano quit.
"I'm upset. You can't imagine how difficult it was for me, but thanks to my family and I'm standing on my feet. I lost the work I loved, it was going well," Acquarone said.
"Cycling and RCS are in the past for me now. I just want that the truth comes out and the guilty pay for their crimes. I hope to be vindicated. I haven't done anything wrong."
Acquarone now works for D-Share, which provides technical and software solutions for media outlets.
Thank you for reading 20 articles this month* Join now for unlimited access
Enjoy your first month for just £1 / $1 / €1
*Read 5 free articles per month without a subscription
Join now for unlimited access
Try first month for just £1 / $1 / €1