Former Team Sky doctor would not prescribe Bradley Wiggins TUE again if he had the chance
Dr Richard Freeman spoke for the first time since a UK Anti-Doping investigation into Team Sky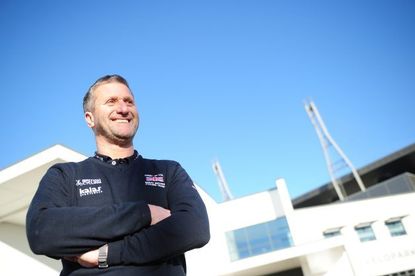 (Image credit: Simon Wilkinson/SWpix.com)
Bradley Wiggins would not have been prescribed a TUE for corticosteroid again had Doctor Richard Freeman had a chance to do it over.
Freeman spoke for the first time since the UKAD investigation erupted two years ago when Russian hacker Fancy Bears revealed Team Sky's former star Wiggins used corticosteroid ahead of his major appointments, including the 2012 Tour de France which he won.
Freeman spoke to BBC Sport saying he would "prefer not to" give Wiggins the powerful corticosteroid and that he would have advised him of the "reputational risk" associated with it.
It was an "effective treatment" for Wiggins's allergies. "Unfortunately, on medical grounds, I would [act differently]," Freeman said. "Now I would also advise him there's a reputational risk here."
Wiggins received permission to use the drug and injected it ahead of the 2011 and 2012 editions of the Tour de France, and the 2013 Giro d'Italia.
Former British professional David Millar said two years ago: "Kenacort [a commercial name for the corticosteroid triamcinolone] was the only one you took and three days later you looked different... It felt destructive. It felt powerful."
Now would Freeman give Wiggins the same medicine if he could do it over? "I'd prefer not to, but I'm his doctor; sometimes as a doctor you have to do things that you don't particularly want," he continued.
"I don't think there's any sportsman in any sport at the moment that would run the reputational risk of considering applying for a TUE for the treatment of allergic rhinitis, which is a pity."
The TUE and other issues surrounding team Sky and British Cycling, where Freeman was the doctor from 2009 to 2015, kicked off a British parliamentary inquiry.
Team Sky boss and former British Cycling performance director, David Brailsford testified with others involved. Freeman refused, citing ill health.
"I went down to the select committee the day before, but that's when unfortunately I had a breakdown and it was the final straw," Freeman said.
Some saw it as an excuse. "I found the investigation, initially by the newspapers and then by UKAD, very stressful. I suffered from a major depressive illness.
"You lose all your energy for life, you can't sleep, you feel helpless, hopeless, worthless, guilty about all sorts of things... you can have suicidal thoughts."
Freeman added, "Yes, yes," when asked if he still has these thoughts."
What seemed like another excuse, Freeman had said that his laptop with medical records was stolen during a trip to Greece in 2014. He had no backups. It became an issue when investigators were trying to determine why a medical package or 'jiffy bag' was sent from England to France where Bradley Wiggins was racing in the 2011 Critérium du Dauphiné.
It was "a very violent robbery," he said. "A patio window smashed, the safe stolen, three days at a local police station in Santorini. We had a police report that was given to BC and I had a report from the IT department that the laptop was reported missing.
He explained received the loss of data report form that he had originally filed, dated 9 September 2014, recently after a Freedom of Information request to UKAD. It showed: "1x Apple laptop" containing "Sky rider ABP [Athlete Biological Passport] data" was stolen "27/28 August 2014". It states the laptop was encrypted and password-protected.
He added, his record-keeping "could have been done a lot better" and he is "sorry" he had no back-up system.
Freeman is publishing a book, The Line: Where Medicine and Sport Collide Hardcover, due out tomorrow.
British Cycling explained of the book, 'We are disappointed that Dr Richard Freeman has chosen to publish this book having refused to fully participate in our investigation."
Damien Collins, chairman of the parliamentary committee investigation, said, "It is disappointing that Richard Freeman wants to tell his story, rather than be questioned about it in front of the committee."
Thank you for reading 20 articles this month* Join now for unlimited access
Enjoy your first month for just £1 / $1 / €1
*Read 5 free articles per month without a subscription
Join now for unlimited access
Try first month for just £1 / $1 / €1