Froome data needs to be handled by an official body, says Astana coach
Astana trainer Paolo Slongo says that the tests Chris Froome underwent should be carried out by an official independent body like the UCI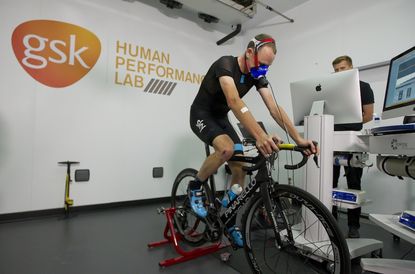 (Image credit: onEdition)
Chris Froome's physiological data release on Friday may help answer his critics, but the numbers need to be produced and handled by an official entity, says Vincenzo Nibali's trainer Paolo Slongo.
Team Sky's Froome, winner of this year's Tour de France, decided to release his physiological values and underwent testing at an independent laboratory to do so. Esquire magazine published the results in an internet and print article.
>>> What can we learn from Chris Froome's physiological test data?
Astana trainer Slongo, who helped Italian Nibali win the 2014 Tour, says that an official body like the World Anti-Doping Agency (WADA) or the Union Cycliste Internationale (UCI) should perform such tests.
"We have a believable sport, and maybe these numbers help will help Froome," Slongo told Cycling Weekly.
"If it is going to be done, though, we need an external entity that does it and does it the same for everyone. [With Esquire] it's a little bit of marketing.
"If we were in that position with Nibali, I would want an official entity to handle it, not Sky or Astana or who knows.
"I'm not putting Froome's numbers in doubt, but maybe one does the tests different from another and you get different numbers. If the machines are calibrated differently, you can have different numbers for example."
GSK Human Performance Lab in London tested Froome in the month following his second Tour victory.
Team Sky Principal David Brailsford said at the Tour this July that the biological passport could include power and weight, and not just blood values.
"There are already many tests so maybe it isn't needed," Slongo added, "but the UCI or WADA could set up something, before the Tour the top-10 riders could take a test and we could see everyone's numbers. If you had a body like that doing it then you'd have real values.
"I'd like to always have all the climb times always taken at the same points. The UCI or race organiser could do that so that we could have correct VAMs [average ascent speed - ed.].
"Right now, you have the times taken at all different points. If it's taken officially, then we can understand the VAMs and one can't say he did 1000 more than another."
Slongo admitted that he watched the YouTube video leaked during the Tour with Froome and his climbing data on Mont Ventoux in the 2013 race.
He said that he watched it twice at the Tour and once again this winter to learn from Astana's rival. He does not expect to gain much from Friday's publication, but said that he would look closely over the details regardless.
"Froome is in this situation. He is trying to be transparent," Slongo said. "It's not a bad idea, but then you have to see what data comes out."
Thank you for reading 20 articles this month* Join now for unlimited access
Enjoy your first month for just £1 / $1 / €1
*Read 5 free articles per month without a subscription
Join now for unlimited access
Try first month for just £1 / $1 / €1