GARMIN-CHIPOTLE GET IT TOGETHER IN COLORADO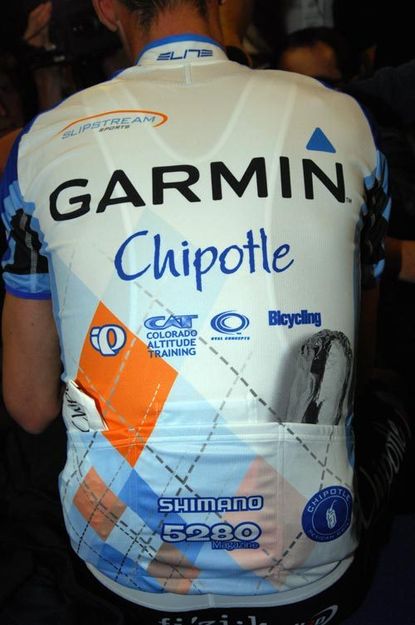 Garmin's pre-Christmas team-building camp in Boulder, Colorado, last week was a chance for the new members, including Bradley Wiggins and world championship silver medallist Svein Tuft, to meet the squad and plan the 2009 season.
Team manager Jonathan Vaughters said: ?We did some hiking and some drinking and a bit of riding, but not any more than 10 hours over the whole week.
?We hiked on Mount Sanitas and Svein Tuft came up with a neat game. One guy goes ahead as the rabbit, that was Jason Donald, and then the guys behind pick up a 20lb rock. It?s like a team time trial, they can?t go ahead of the rock carrier and the guy with the rock carries it until they can?t carry it any longer. Danny Pate and Svein were our ?rock stars?.
?We also sold out a lunch, which is impressive in a tough economy. VIP tickets were $250 each. We had a crowd of thousand watch the team launch and we raised some funds for the Denver children?s hospital.?
Vaughters said he would be revealing details of the team?s new anti-doping programme, to replace the now defunct ACE [Agency for Cycling Ethics] later this week. ?I can?t say anything about it at the moment because it is a joint venture with the Columbia team and we?ve agreed to announce it at the same time, but it?s a great ethical programme.?
He added that he wanted the team to focus on winning in 2009. ?I don?t think we thought we?d be that competitive, but we were and now we have to stay focused, tighten up on the details and prove we can win more. We now know we?re not just here to survive.?
For more news from the team, including the revelation of one rider having to run naked around a brewery car park, get this week's Cycling Weekly. Available on Thursday for £2.50
RELATED LINK
Garmin Chipotle moves up to ProTour
EXTERNAL LINK
Thank you for reading 20 articles this month* Join now for unlimited access
Enjoy your first month for just £1 / $1 / €1
*Read 5 free articles per month without a subscription
Join now for unlimited access
Try first month for just £1 / $1 / €1