Google Maps now include Biking Directions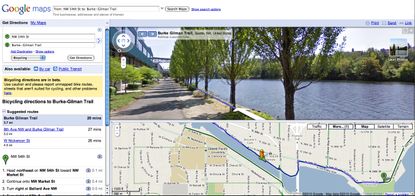 Internet giant Google has launched a new 'biking directions' feature to its online mapping service, making it easy to find safe cycling routes.
As part of the launch, there will be a new 'bicycling' layer to Google's maps. Selecting the bicycling layer option allows you to see all cycle routes - bike lanes, bike routes and trails - overlaid on the map.
Finding a route to ride is made easy. Simply select you start point and destination, then select 'bicycling' from the drop-down menu. A route is then calculated using bike lanes and trails wherever possible, and a journey time is given that takes account of hills and fatigue due to ride length.
If you don't like the route Google comes up with, you can click and drag the route line to adjust it.
Cycle routes appear as a blue line on maps and also in Google's innovative 'Street View' photographic mapping.
The big drawback for British users is that biking directions are only currently available in the US as the system undergoes beta testing (desktop computers only, too). Google has not indicated when the system will be added to UK mapping, or other locations in the world.
Google introduced the biking features as a result of user feedback - according to the company it was the most requested new feature by users.
External link: http://maps.google.com/biking
To find out more about what Biking Directions is all about, watch Google's video below...
Thank you for reading 5 articles this month* Join now for unlimited access
Enjoy your first month for just £1 / $1 / €1
*Read 5 free articles per month without a subscription
Join now for unlimited access
Try first month for just £1 / $1 / €1