New policy on pothole repairs 'will increase the risk of cyclist deaths', government warned
Coroner's report into death of elderly cyclist in Bury calls for change in policy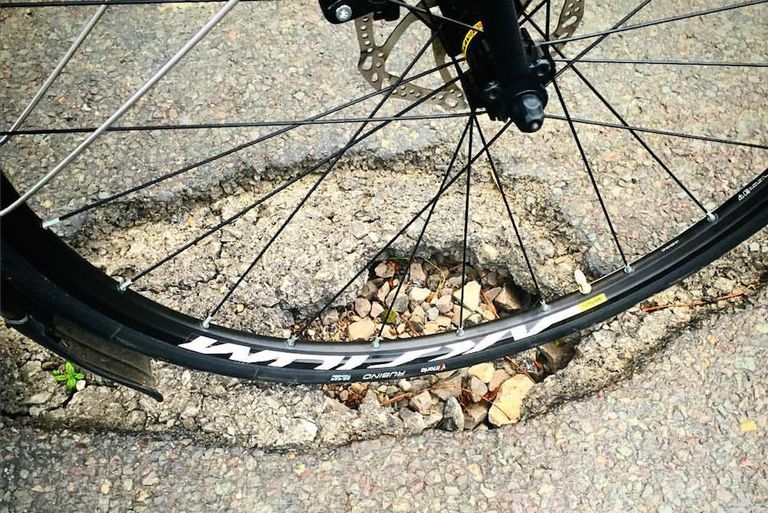 (Image credit: Mark Bradshaw/Flickr)
A new policy on pothole repairs "will increase the risk of future deaths, in particular to cyclists", the Department for Transport has been warned.
In a report into the death of elderly cyclist Roger Hamer, who passed away in April 2016, one month following falling off his bike after hitting a pothole which was described as the "size of a dinner plate", the coroner criticised the new policy which will see potholes of less than 40mm not automatically repaired by highway authorities.
Peter Sigee, assistant coroner for Greater Manchester North, wrote to transport secretary Chris Grayling with his concerns, saying that the death of Mr Hamer could have been prevented had the potholes on Bury New Road, where the crash took place, had been repaired, and that Grayling, together with the CEO of Bury Council, should take action to prevent future deaths.
>>> Cyclists' guide to dealing with potholes
Mr Sigee's chief concerns centred around a new procedure of highway management currently being adopted, which will mean that potholes larger than 40mm will be investigated by an inspector and considered for repair, whereas under the previous procedure potholes of this size would have been automatically repaired.
While acknowledging that there will be a level of discretion in the new policy, the coroner also raised concerns about the inconsistent application of the procedure, and said that in general the new procedure would "increase the risk of future deaths, in particular to cyclists."
>>> Cobbles, potholes, and rough roads can cause nerve damage for cyclists, study finds
Roger Hamer died last year, a month after falling off his bike on Bury New Road, which local residents said was notorious for the number of potholes, with a number having asked the council to carry out repairs prior to Mr Hamer's crash.
At the inquest into Mr Hamer's death, Bury Council contested residents' claims that the pothole which Mr Hamer hit was 8cm wide, saying that the pothole in question was only 2cm deep, and that only potholes deeper than 4cm were "actionable".