Graham Briggs takes stage two in Girvan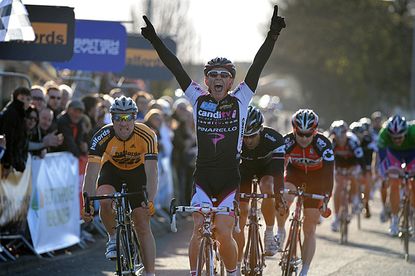 Photo gallery from the Girvan>>>
CandiTV?s Graham Briggs burst from the pack to take stage two from a despairing Ian Wilkinson and Kristian House.
Briggs avoided the crash in Victory Park that brought down his team leader Russell Downing with three laps to go in order to take the victory.
A delighted Briggs said afterwards, "I was just trying to save myself and didn?t want to get to carried away but tried to stay up near the front and hoped it would come down to a bunch sprint.
"Russ had had a dig and it had come back and it was down to me to do it at the end. Malcolm [Elliott] kept me calm and kept me up there. I was on his wheel with two laps to go. He?s been there, done that and knows where to be. I usually leave it too late, but Malc put me through at the front and I got out for the win. I?m chuffed to bits."
Russell Downing had managed to get a gap of 8 seconds at around the midway point but this was soon snuffed out within a couple of laps as Tony Gibb went on the front to assist team mate and race leader Tom Murray along with the rest of the Plowman Craven team in bringing the race back together.
A crash within 3 laps to go saw around four riders go down which included Dale Appleby and last year's overall winner Downing. They were able to get back in to the race but were not in contention for the gallop up South Park Avenue for the finish.
Classic Scottish scenery for the riders to enjoy as they roll through. Photo by Andy Jones.
Result: Girvan, stage two
1 Graham Briggs (CandiTV Pinarello RT)
2 Ian Wilkinson (Halfords Bikehut)
3 Kristian House (Rapha Condor Pro CT)
4 Simon Gaywood (Team Corley Cycles)
Sprints Competition
James Millard (Plowman Craven Madison)
KOM Competition
Tom Murray (Plowman Craven Madison)
Overall Classification
Tom Murray - Plowman Craven Madison
RELATED LINKS
Downing back to winning ways in Scotland
Plowman Craven strike first in Girvan
British race calendar 2009
Thank you for reading 20 articles this month* Join now for unlimited access
Enjoy your first month for just £1 / $1 / €1
*Read 5 free articles per month without a subscription
Join now for unlimited access
Try first month for just £1 / $1 / €1