HOY THE KEIRIN KING BOUND FOR BEIJING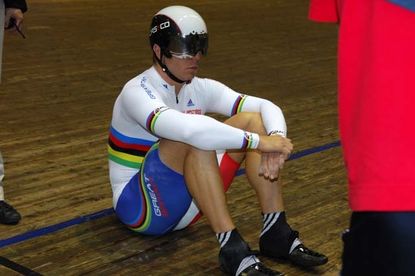 Get The Leadout Newsletter
The latest race content, interviews, features, reviews and expert buying guides, direct to your inbox!
Thank you for signing up to The Pick. You will receive a verification email shortly.
There was a problem. Please refresh the page and try again.
Would you like an aisle seat or one by the window, Chris?
Hoy booked his place on the plane to Beijing by clinching the World Cup Keirin series with another win in Copenhagen.
But he won?t be looking ahead to the Olympic Games just yet. There?s the small matter of the World Championships to come first.
Despite having won in Sydney and Beijing as part of his remarkable 22-race winning streak in the Keirin, Hoy could not relax.
Arnaud Tournant had been such a thorn in his side that had he won in Copenhagen, even second place would not have been enough for Hoy because the pair would have each had two wins, with Tournant edging it by virtue of the better result in the most recent race.
As it was, Hoy made certain of the World Cup title and the automatic qualification for the Olympics that came with it.
But that winning sequence finally came to an end in the lucrative International Keirin series, when he lost in the second round.
But the Scot even sees the positive side of losing. ?Psychologically it adds a bit of strength to keep winning but I wasn?t really that bothered about it,? he said.
?It was more the media making something of it because it is unusual in that event to be unbeaten for so long.
?Winning the heats and semi-finals is not the key thing, it?s winning the finals that counts. The job in the early rounds is to get through, it just so happens I?ve kept winning.
?But now people can stop going on about it.?
Swipe to scroll horizontally
Hoy doesn?t like an easy ride. He doesn?t shirk the work or dodge the responsibility of putting himself on the line for the team sprint, the individual sprint and the Keirin ? a schedule that means every World Cup events guarantees a heavy workload.
This time there was the added complication of the International Keirin. Friday, Saturday, Sunday. Heats, semi-finals and finals. It?s a lot of racing. In Copenhagen, Hoy took his place on the start line 15 times in three days.
?It was the hardest weekend of racing ever,? he said. ?Last year?s Manchester World Cup was the previous hardest but this topped it.
?The priority was to win the Keirin and once I?d done that the pressure was off a bit. The silver in the sprint was a huge bonus too.?
By Sunday night wasn?t he tempted to give the International Keirin a miss?
?Not really. I was tired by the semi-finals of the sprint competition, really. I ran out of steam a bit. But, you know, when there?s money on the line you think ?Well, I?ve got nothing to lose, I?ll give it a go,?? he says with a laugh.
And given his 22-race winning run, who could blame him, although his bid for the cash came to an end in the second round.
Swipe to scroll horizontally
Hoy could have taken the news that his favoured event, the kilometre, was being dropped from the Olympics badly.
It is a mark of the competitor that instead he decided to adjust his focus.
Unluckily for the rest of the world?s top Keirin riders, he chose their event. He threw himself into it with gusto, travelling to Japan to live and race as a professional Keirin rider for a spell ? a trip that clearly paid off.
His rivals know what Hoy is going to do, they just can?t stop him doing it.
?It?s no secret my strength is going fast for a long one,? he said. ?But you have to have more than one tactic. Most of the times it?ll work out but if the race goes a different way you need to be flexible.
?There?s no specific new tactic. I still like to go from the front, but I am more tactically aware and my observation skills have improved. I really know what?s going on around me.
?It?s about not giving everything away too early. You don?t want to be putting it all on the line while your rivals are resting. It?s about timing your run and saving enough to have more than one kick.?
Swipe to scroll horizontally
HOY?S BIG WEEKEND
Hoy's 15 races
TEAM SPRINT
1. Qualifying
2. Bronze medal final
KEIRIN
3. First round
4. Second round
5. Final
SPRINT
6. Qualifying
7. 1/8 finals
8. quarter-finals
9, 10, 11. semi-finals (3 races)
12, 13. final (2 races)
INTERNATIONAL KEIRIN
14. First round
15. Second round
If there is any cause for concern, it?s the team sprint. Such an embarrassment of riches ? with seven genuine contenders for the three places ? has not been turned into the sort of times to challenge the French, yet.
Hoy is confident it?ll come, though.
?The times haven?t been spectacular but I think once the team is settled, it?ll come together. There are hints that we have a world-beating team.?
Saturday?s Revolution (February 23) will see Craig MacLean, Jason Kenny and Jamie Staff each race a 500-metre standing start time trial ? with riders following in their wake to simulate the team sprint ? as part of the selection process to decide the starting man.
?Once we know the line-up for the World Championships and we?re settled and working together as a trio all the time, I am confident it?ll come,? he said.
?But we have to be fair to everyone because they are all in with a shout of the World Championships and Olympics and we?re all so close together fighting for a place.
?The French have been shifting their line-up too but they have been recording some good times. But we have complete belief that we can beat them.?
It may not happen in Manchester next month, though.
?Of course the Worlds are important but this year is all about the Olympics. When riders are standing on the podium in Beijing for the medal ceremonies, no one will be thinking back to who won in Manchester, just as no one was thinking about the Melbourne Worlds in Athens.?
So, with that in mind, aisle or window seat, Chris? Actually, that can wait. First it's the Worlds at Manchester and he can get there by car.
RELATED LINKS
Copenhagen World Cup, day three: British riders take medal haul to seven
Copenhagen World Cup, day two: Three golds for Great Britain
Copenhagen World Cup, day one: Medal hat-trick for great Britain
Copenhagen World Cup: Battle for Beijing continues in Denmark (preview)
Thank you for reading 20 articles this month* Join now for unlimited access
Enjoy your first month for just £1 / $1 / €1
*Read 5 free articles per month without a subscription
Join now for unlimited access
Try first month for just £1 / $1 / €1
Get The Leadout Newsletter
The latest race content, interviews, features, reviews and expert buying guides, direct to your inbox!
Sports journalist Lionel Birnie has written professionally for Sunday Times, Procycling and of course Cycling Weekly. He is also an author, publisher, and co-founder of The Cycling Podcast. His first experience covering the Tour de France came in 1999, and he has presented The Cycling Podcast with Richard Moore and Daniel Friebe since 2013. He founded Peloton Publishing in 2010 and has ghostwritten and published the autobiography of Sean Kelly, as well as a number of other sports icons.