Hulk-like cyclist lifts car out of bike lane (video)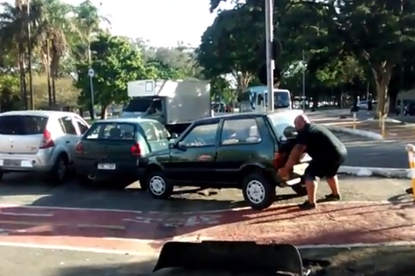 It's a common sight in Britain, but it appears that motorists like to park in cycle lanes all over the world. This video, reportedly shot in Brazil, sees one rider take such an exception to a poor bit of parking that he lifts the car out the way himself.
The strongman casually grabs the car by the rear bumper and rotates it on its front wheels out of the way. Then he casually gets back on his bike and pootles off on his way.
>>> Even North Korea has segregated cycle lanes now
It's probably best not to try this the next time you see an car blocking your way, though - this chap looks as if he's done a bit of weight training in his past and offers excellent technique when lifting the car, as if he's done it before.
Earlier this month, Auckland mayor Len Brown courted controversy when he blocked a bike lane with his electric car after a poor piece of parking, while cyclists in Sydney marked out dangerous cycle lanes which left them at risk of being hit by car doors.
Thank you for reading 20 articles this month* Join now for unlimited access
Enjoy your first month for just £1 / $1 / €1
*Read 5 free articles per month without a subscription
Join now for unlimited access
Try first month for just £1 / $1 / €1