Hunting for hidden peaks: Finding the secret Peak District climbs
Get away from the crowds with these hidden Peak District ascents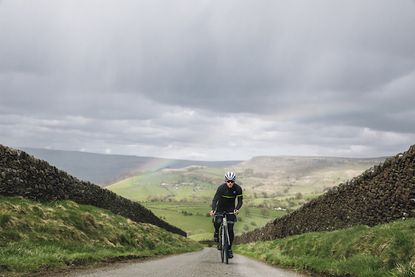 Get The Leadout Newsletter
The latest race content, interviews, features, reviews and expert buying guides, direct to your inbox!
Thank you for signing up to The Pick. You will receive a verification email shortly.
There was a problem. Please refresh the page and try again.
Sandwiched between Manchester — the hub of British Cycling's track programme — and the south-western border of the county of Yorkshire, and its rich cycling heritage, it is unsurprising that the Peak District is such a hotbed for those looking to hit out on two wheels.
However, discovering new climbs in the area can be tricky. The aim of Cycling Weekly's trip to the Peak District is to find climbs not so much off the beaten track — as I am only armed with a road bike — but looking for a climbing fix that hadn't been picked up by major race organisers on a route-finding mission or that had tens of thousands of Strava segment attempts to its name already. Tricky to do in the age of social media, but not impossible.
Pindale climb
In search of the first of these hidden gems, I head in the direction of one of the most famous ascents in the region, Winnats Pass. But as I reach Castleton — the village that is the gateway to that ascent — I turn into the settlement and ride up Back Street towards Pindale Road. This climb may well fall under the radar, partly because it is located in the shadow of the more well known and widely used pass a few hundred metres up the valley. However, it is a brutish climb, with views to match.
As the road slowly rises into the tree line that hugs the right side of the hill, the temptation is to bail out at the junction with Siggate, and drop down along Pindale Road, as this is the exact moment where the climb really begins to pitch up.
>>> Britain's toughest roads: A cyclist's guide
You rise out of the trees towards the hairpin corner that rounds the hillside and overlooks the cement works — it's more picturesque than it sounds.
Despite the gradient calming down, the open nature of the last kilometre of the ascent can prove problematic. Having researched the climb I thought I would be able to gently spin my way to the top from here, but the headwind has other plans as I continue to chug along praying for the road to flatten before being able to admire the view without riding at my maximum heart rate.
Beast of Bradwell
My journey into the Peaks hasn't been taken without seeking advice from some of the cycling experts from the area itself. James Allen, author of 50 Classic Cycle Climbs: Yorkshire & Peak District, suggested checking out the Beast of Bradwell, which was conveniently located just after the flowing descent from summit of Pindale.
When he suggested it was "one of the hardest in the area", I was a tad concerned considering both the Peaks' reputation and Allen's knowledge.
As the name suggests, it truly is a beast by name, and a beast by nature. Starting in the unassuming quaint settlement that bears its name, it leaves the village via Michlow Lane towards Cresswellpart Lane. But its unforgiving ramps are anything but quaint as they touch 15 per cent and never dip below 11, before reaching a farmer's barn one kilometre after your slow-motion ascent. My bike computer suggests it is even steeper than this as sheep and lambs scuttle away as I ascend towards the top.
>>> Get better at climbing hills: top tips to speed up your ascents
Psychologically, I always struggle more to conquer climbs that don't have changes in direction and it is clear the village planner of Bradwell didn't care for my mental assault on the almost dead straight ascent when crafting this animal of a road.
"I first rode this about 10 years ago by accident on an exploration ride, on a heavy winter bike and lacking any summer form," recalls Allen. "I almost came to a standstill on the hardest middle section and it really caught me out."
Allen reveals his recommendations have not only earned him enemy status with myself but also some of his club mates: "Recently I encouraged — or tricked depending on who you ask — the Sheffrec club run into taking on the climb. I don't think I've ever heard quite so much foul language in such a short space of time. A few members didn't make it to the cafe that day."
Cowlow Lane
I hadn't really expected there to be another batch of concealed climbs located so conveniently close to one another when I embarked on this mission. But there is another duo of climbs on offer rising up from opposite sides of the village of Combs just outside Chapel-en-le-Frith, which is west along the A623 about an hour or so ride away.
Cowlow Lane is an ascent of three sections out of Combs — a slow rise to start, a meaty middle with a draggy ramp to the summit at just a touch under two kilometres in length.
>>> Britain's Mont Ventoux: climbing the Bwlch the hard way
When searching for climbs off the beaten track it is likely the road surface will resemble how your body feels at the end of them — broken and battered. Therefore negotiating the smoothest route up the climb is as much of a challenge in the pacing and physical requirements needed to conquer the short, sharp climbs.
This is particularly tricky on Cowlow Lane as the road ramps up to an eye-watering 21.4 per cent on its steepest section and it may well be tempting to pause your ascent when you reach the gnarly right-hand hairpin that overlooks Combs reservoir. But it's important to keep grinding, not only because it would be tricky to start up again on its harsh ramps, but also the many narrow sections make a stand-off with a car coming down the hill both highly likely and not one you're probably going to win.
Lesser Lane
Back down in Combs another bone cruncher of a climb rises out of the village, where current Strava KOM holder Lee Baldwin shares some advice on what awaits on the opposite side of the valley up Lesser Lane.
"It's a very quiet and scenic way to get out from Chapel en-le-Frith," Baldwin explains. "It's a tight and narrow road at the bottom where you are likely to get up some speed. But that's not going to last though, as it ramps up a bit before a nice rolling road to the next junction."
It is almost as if Baldwin, who also boasts the second fastest ascent of Cowlow Lane, has programmed this prediction into my legs before it has even begun. Fresh from the ascent of Cowlow Lane, it isn't the case that I was fresh as a daisy, but the gentle start lulls me into a false sense of security as the landscape takes my mind off the gradually rising road. Suddenly, I realise once again I am trudging along as farm animals stare at me wondering why a human would subject themselves to riding up the climb when a rainbow has formed and a stunning view lies behind them.
The scenery will have to wait though as the climb continues on for one mile in total from bottom to top, with a quick glance behind at the summit proving why the sheep have set up camp to admire a view like this.
Oldfield Lane
Heading to the south-eastern point of the National Park, our luck has run out as the weather has turned to steady rainfall. Despite this we reach one of the climbs in the area that doesn't have a vast amount of Strava attempts to its name but a leaderboard that suggests it should. Domestic stars Joe Clark (CyclingSheffield), Adam Kenway (Vitus Pro Cycling) and Tom Stewart (JLT-Condor) hold the top three places on Oldfield Lane which Clark trains on.
"There are probably about six different roads up to the top and towards Stanton Moor, but I'd say that is probably the hardest," says Clark.
Starting from Darly Dale we head down the short but gradual descent past a recycling factory before the road heads skywards.
>>> The secrets of Britain's fastest time triallists
"You can see the road ahead of you and there's a bit with hedgeways which is steep and then you turn left through the village."
As Clark suggests this is where the road name changes to Lees Road as you arrive into the village of Stanton Lees where the landmark of the climb resides.
"As you go past the church that part is really steep. You'll notice that everyone seems to stop and take a photo by it because it shows you how steep it is and it's an excuse to take a break."
It is at this point where it very nearly comes crumbling down — I swear the fatigue of the climb itself has skewed my normal thinking. Wet weather and drain covers don't combine when climbing out of the saddle, and my back wheel skids and sends me into an impromptu and precarious track stand as I regain my balance. The remaining 300 metres disappears into a wooded road, with views back down through the trees to Stanton Lees, the recycling centre and valley floor below as the moss covered walls guide my way to the summit.
Bradfield Beast
Scouring the Peak District took me right to the boundary of the National Park for the final hidden ascent out of Stacey Bank above the Dam Flask reservoir. This may be a bit further afield compared to the other climbs we have taken on, but this isn't a secluded area, with plenty of other hidden climbs around the area.
"Finding the start of the Bradfield Beast can be tricky as it is a very narrow and easily missed lane," Allen warns. "This is because the climb from Low Bradfield to High Bradfield up Woodfall Lane is far more commonly used."
The Bradfield Beast is a somewhat picturesque setting for a mythical reference, but this is immediately forgotten as we turn off Loxley Road onto the narrow single lane climb.
"After 400 metres the hardest section appears and it's brutal, so hold back," Allen advises. "This middle section hovers around 20 per cent for 100-200 metres until the junction with Stoney Lane and Dalroyd Lane. This almost unavoidably sends you into the red, but after this the road relents somewhat and the remaining 300 metres of Back Lane is relatively pleasant, taking you to the hamlet of Holdsworth."
Despite the harsh winter, it seems as though the Bradfield Beast has been treated reasonably well with a freshly relaid surface, making the ascent just that little bit easier. Unfortunately, the stunning landscape will be behind you as you ascend but the good surface lures you in to heading back down the way you came to take in the views you would have missed.
Whether it will maintain its status as a hidden gem of the area remains to be seen, as it was the penultimate climb in the local 'The Magnificent 7' event in March.
These six roads are just a taste of what is on offer in the Peak District; plotting out a route to take them all in may well be out of reach of one day's ride. But who is to say you should only spend one day in the stunning location that is a British cyclist's paradise, where there is so much to discover and conquer?
Thank you for reading 20 articles this month* Join now for unlimited access
Enjoy your first month for just £1 / $1 / €1
*Read 5 free articles per month without a subscription
Join now for unlimited access
Try first month for just £1 / $1 / €1
Get The Leadout Newsletter
The latest race content, interviews, features, reviews and expert buying guides, direct to your inbox!
Paul Knott is a fitness and features writer, who has also presented Cycling Weekly videos as well as contributing to the print magazine as well as online articles. In 2020 he published his first book, The Official Tour de France Road Cycling Training Guide (Welbeck), a guide designed to help readers improve their cycling performance via cherrypicking from the strategies adopted by the pros.