Britain's toughest roads: A cyclist's guide
Challenge and pleasure await in all corners of our beautiful country for those prepared to take on these testing routes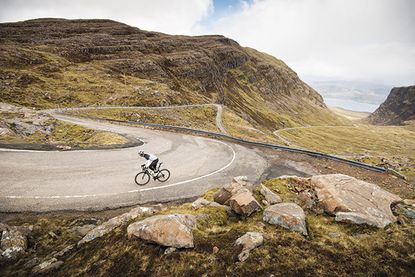 (Image credit: Andrew McCandlish)
Get The Leadout Newsletter
The latest race content, interviews, features, reviews and expert buying guides, direct to your inbox!
Thank you for signing up to The Pick. You will receive a verification email shortly.
There was a problem. Please refresh the page and try again.
People change when they get on a bike. Slinging a leg over the crossbar flicks the 'Athlete' switch for many of us on two wheels; we try to make life harder for ourselves.
Flat, easy roads are all well and good, but us cyclists love to seek out the tough stuff. And we all love the idea of challenging ourselves in the mountains.
While the UK's quota of Alpine-style climbing is limited, Old Blighty can do rolling terrain all day long: sharp pulls, tight little descents, shoddy surfaces… oh, and plenty of wind. Britain has tough roads in spades.
With that in mind we set out to explore a few choice cuts.
1 Bridport to Abbotsbury
Dorset 8/10
Length: 8.75 miles | Elevation: 258m
We say: "Son, your ego's writing cheques your body can't cash." Hunched over the bars, staring bug-eyed at the near-vertic
al tarmac shard in front of me, James Tolkan's immortal quote from the film Top Gun springs to mind.There's a loud 'crack' from somewhere in the drivetrain. Behind me a small phalanx of cars burn clutches furiously.
I wobble, and finally stop. Bugger.
What in God's name had possessed me to go in search of Britain's toughest roads and then ride them? I didn't even have the excuse of being taken unawares by the gradient.
"It's a massive, fairly steep climb out of Abbotsbury…" CC Weymouth chair Andrew Preston's words ring repeatedly in my ears as I trudge up a 20 per cent ramp, musing how I'd brought this all on myself.
The B3157 Abbotsbury to Bridport road on the Jurassic Coast, combines the perfect 'Toughest Roads' ingredients. With its incessant ramps and stunning sea views, it quickly made it onto the shortlist. The tarmac is smooth and although being a B road it can be a little on the busy side, it's far from intimidating.
>>> Eight reasons why cycling in Dorset is absolutely great
My westward bearing means the pleasure of a prevailing wind in my face. Not that it really matters when you're walking at 2mph. The steepest 50 yards out of the way, I have a go at remounting — easier said than done on a near-20 per cent hill. My ultimate destination of Bridport is still some eight miles away.
Finally, over the summit, the sea lit up by the afternoon sun, I ease off and let the speed build. Between melting snow drifts I am soft pedalling at 20mph and wondering what the fuss was about.
"It's a rolling descent down into Bridport, with some pretty sharp little climbs up. So you're generally losing height, but you've got to keep going up little 20 per centers," Preston had warned me beforehand. But surely once Abbotsbury Hill was out of the way, how hard could it be?
After all, it's pretty much all downhill from here and the surface is pleasantly smooth.
As the gentle descent dips into the hamlet of Swyre, the follow-up to Abbotsbury Hill's haymaker is revealed. A sharp ramp of around half a mile — Strava segment: 'The climb out of Swyre' — which averages five per cent and peaks mid-teens.
Abbotsbury Hill is but a memory, but its legacy remains: it has, basically, destroyed my legs. The views west along the coast, with the soaring Golden Cap cliff summit in the distance ease the deadness as I hunker down for two further miles of rolling descent into the village of Burton Bradstock and the foot of the last of the day's climbing. Another half-mile haul with a jagged profile, it only averages three per cent, but out comes the bottom gear again.
My initial idea was to ride the road from west to east but Preston had convinced me otherwise: starting in Abbotsbury was harder. Certainly on the initial downhill slopes, I've begun to wonder if I was right after all, but as each consecutive ramp bites harder than the last, I begin to see his point.
By the time I roll into the car park at West Bay on the outskirts of Bridport, I've done 2,000 feet of climbing in 20 miles and my legs are cooked. Says Preston: "It's an awesome road; really superb. If you're travelling down to Dorset you should definitely go along it, because it's great."
Strava segment: 'Abbotsbury Hill Climb'
KoM: Phil C. 5.07
QoM: Amy-jo Hansford 7.12
2 Freshwater-Niton Military Road
Isle of Wight 9/10
Length: 12.6 miles | Elevation: 322m
We say: You're spoiled for choice if you fancy putting yourself through the wringer on a bike on the Isle of Wight, but it is the A3055 Military Road that follows the island's south-west coast that CW homed in on for 'Toughest Roads'.
The profile tells a story of a long, undulating road bookmarked by significant climbs at each end, which change character depending on which way you ride it. If you start at the Niton end, the prevailing south-westerlies could really spoil your morning. But we've gone with the Freshwater start, which features 50 per cent more climbing and a general uphill trend over its length.
You say: "After the initial climbs, it's a fast undulating 10km stretch of open country before the steady climb up to Blackgang Chine begins, rapidly steepening to 16 per cent. You're rewarded by an exhilarating blast down the far side to Niton. With a decent climb at either end and a seriously quick descent to follow, what's not to like?" Richard Beioley, West Wight Wheelers
Strava segment: 'Military Road east'
KoM: James Veal 2.45
QoM:Hollie D 3.27
3 Beaulieu to Lyndhurst
Hampshire 7/10
Length: 6.9 miles | Elevation: 113m
We say: This innocuous corner of southern England is probably better known for wandering ponies and the National Motor Museum than for nails-hard cycling roads. But the rolling nature of the area, complete with a coastal location ripe for sea winds and some grippy surfaces make the New Forest ideal for 'Toughest Roads' purposes.
This seven-mile stretch of the B3056 runs north-west from the village of Beaulieu to the 'capital of the New Forest', Lyndhurst.
The road itself climbs no significant hills, but it has everything else. It's windy, and most of all it's incessantly lumpy along its entire length, finishing with a flourish as it climbs into Lyndhurst. Prevailing south-westerlies add to the lumpiness and make for a challenging cross-headwind that is especially pronounced during the second half.
You say: "If it's a bad day and the wind's in the wrong direction, you can be doing all the power you've got and doing about 8mph. It's amazing how strong you get in the Forest, because of roads like this one." Stewart Ward, New Forest CC
Strava segment: 'Denny to Boltons'
KoM: Chris A 4.23
QoM: Helen McAllister 4.17
4 Torridon to Diabaig
Highlands 9/10
Length: 9.2 miles | Elevation: 350m
We say: Popular legend has it that Game of Thrones creator George R. R. Martin once visited Wester Ross region and was taken enough to reimagine the setting as Westeros in his fantasy novels.
Meanwhile, back on Planet Earth, the nine miles of narrow, sinuous tarmac winding from Torridon to Diabaig lies quietly in wait on Scotland's west coast, ready to slacken the jaw of every visiting cyclist. Partly thanks to its beautiful setting on the coastal shores of Loch Torridon, yes, but also its unstinting repertoire of ups and downs. Double black arrows abound — in-between admiring the scenery you'll be breathing through orifices you never knew you had.
It's hard to describe this tiny, unclassified thoroughfare as anything but 'the road to Lower Diabaig', seeing as it stops abruptly when you get there and on a regular road bike you'll have to retrace your tracks to get out.
You say: "Just after Torridon the road takes a right turn and starts to head up past Inveralligin. The next eight miles is either up or down, with quite a few gradients over 20 per cent. The only way out is the way you came." Geoff Paterson, Turriff Cyclists
Strava segment: 'Big Al (Alligin Climb)'
KoM: Geoff Paterson 19.55
QoM: Jayne Taylor 25.32
5 Bettyhill to Melvich
Highlands 10/10
Length: 12.5 miles | Elevation: 364m
We say: If this stretch of road was pancake-flat with a billiard table surface, many of those who ride it would still find it one of the toughest roads they've ever ridden. That's because it forms part of the final big push to John o' Groats along Scotland's north coast on the fabled End-to-End ride and everyone has 800 miles-plus in their legs before they've even started.
Happily for the cyclist in search of some good old-fashioned suffering, the A836 Bettyhill-Melvich road is anything but pancake flat. There are three distinct humps over its 15-mile length, the first rising from near sea level to nearly 500m over the course of three uppy-downy miles.
After descending slowly, then more suddenly back to sea level at around the halfway mark, the second, smaller hump kicks up. Ride this lumpy plateau for two miles — hopefully with the prevailing wind behind you — then drop to sea level again to kick back up to 300m and follow the undulating but slowly descending road over the last few miles to Melvich. But don't empty the tank — Melvich is a hamlet. It most definitely doesn't feature a Tesco Express.
You say: "Windy, stupidly undulating, grippy, scenery is second to none. Use the post office in Bettyhill to stock up on supplies." Steve Shrubsall, LeJoG survivor
Strava segment: 'Did you do 100+ miles before?!?!'
KoM: Jason Duggan 28.59
QoM: Rose Hewig 34.41
6 West Yorkshire Cycle Route
To Baitings Dam 8/10
Length: 4.2 miles | Elevation: 190m
We say: If you're going to ride the UK's toughest roads, why not enjoy them to full effect and wait for the worst possible weather before setting out? I tried to console myself with this idea as I cranked my way upwards into the ever more barren, ever more wet reaches of the moors in West Yorkshire.
This particular treat is a five-mile moorland escapade, meandering up into the hills from Sowerby and following a mazy southerly traverse before ending more or less at Baitings Dam near Ripponden. It forms part of the West Yorkshire Cycle Route, a 150m (260km) loop that roughly traverses the West Yorkshire boundary. Touching as it does on the Yorkshire Dales to the north and the Peak District to the south, opportunities abound for on-bike suffering around here, but, as local rider Tim Bonneville-Ginn assures me, this road is one of the toughest, as well as being the most exposed and rugged.
"There are loads of ups and down, gravel, dirt, steep climbs and tight descents," he says. "I ride it about five times a month as Calderdale and the surrounding area has so much to offer with road cycling. It's made tougher by the fact that you will always have a crosswind when you're out on the moors."
This opening stretch of 'toughest road' is made all the harder by the fact I've just completed a steep, mile-long climb just to get here, and as the road narrows and leaves Sowerby via Well Head Lane, it simply carries on climbing. Bonneville-Ginn's advice not to overdo it because "the ride up to the route is tricky no matter where you start" are indeed wise words. The drystone walls flanking me offer little shelter from the elements as the houses thin out and give way to the imposing moorland.
>>> Five climbs you've probably never heard of but need to go and ride
My reward for facing down the wind and rain, dodgy road surfaces and copious amounts of horse dung comes soon and predictably enough in the form of some pretty amazing views. Even through the mist, a vista well worth stopping to admire appears to the east.
As Bonneville-Ginn mentions, the challenges of this route aren't confined to exposed climbing.
One steep little downhill corkscrew tests both brakes and technical skill, but I'm quickly back to gaining descent again as I head further up onto the moors. With the rain abating, I stop again, this time on a sharp corner at the head of a picturesque valley. Civilisation feels a long way off, yet someone has installed a bench here, complete with a dedication plaque. While the worst of the weather is over it's no conditions for a prolonged rest, so I get back in the saddle again.
With the bulk of the hard yards out of the way, all that remains is a flat (but still exposed) stretch before the road falls gently off the side off the moor to its conclusion at Blue Ball Lane.
Strava segment: 'To The Brink!'
KoM: Rick Clough 1.06
QoM: Nikola Matthews 1.37
Thank you for reading 20 articles this month* Join now for unlimited access
Enjoy your first month for just £1 / $1 / €1
*Read 5 free articles per month without a subscription
Join now for unlimited access
Try first month for just £1 / $1 / €1
Get The Leadout Newsletter
The latest race content, interviews, features, reviews and expert buying guides, direct to your inbox!
After cutting his teeth on local and national newspapers, James began at Cycling Weekly as a sub-editor in 2000 when the current office was literally all fields.
Eventually becoming chief sub-editor, in 2016 he switched to the job of full-time writer, and covers news, racing and features.
A lifelong cyclist and cycling fan, James's racing days (and most of his fitness) are now behind him. But he still rides regularly, both on the road and on the gravelly stuff.