Increase in Scotland's bike use is 'start of a cycling revolution'
Transport Scotland statistics released this week show that the use of cycles increased in 2016, with Cycling UK saying that the figures are encouraging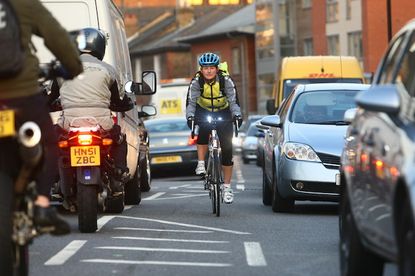 (Image credit: Cycling Weekly/IPC)
An increase in the number of journeys undertaken by bicycle in Scotland has been hailed as the 'start of a cycling revolution' by a leading cycling campaign group.
Statistics published by Transport Scotland this week show that cycle use increased in the nation by three per cent in 2016, to a total of 352 million vehicle kilometres.
Cycling UK says that the use of bikes will continue to rise in Scotland "as more people recognise it as a convenient, low-cost everyday transport".
"We hope that this increase is just the start of a cycling revolution in Scotland," said Suzanne Forup, Cycling UK's Head of Development for Scotland.
http://www.youtube.com/watch?v=NxMF_YFVFaA
"It's a result of many years of work from campaigners, cycling organisations and Transport Scotland to make cycling a safe and attractive mode of transport for everyday journeys."
Cycling UK says that the Scottish Government has made a commitment to encouraging more cycling and walking, with an increase in per-head investment.
Funding for 'active travel' will be increased to £80million, which the organisation says is around twice that spent per head than in England – £13.50 per head, compared to £6.50.
>>> Beginner cyclist: tips and advice to get you off to the best start
The Transport Scotland statistics also show that other modes of transport have increased, including car, air, rail and ferry. Only bus use has decreased.
Overall, cycling accounted for just one per cent of journeys made in Scotland in 2016. The average cycling journey was 7.6km, with just under half of journeys measuring under 2km.
Thank you for reading 20 articles this month* Join now for unlimited access
Enjoy your first month for just £1 / $1 / €1
*Read 5 free articles per month without a subscription
Join now for unlimited access
Try first month for just £1 / $1 / €1