Is road bike suspension just a gimmick?
We investigate suspension in road frames and ask is it worth the investment?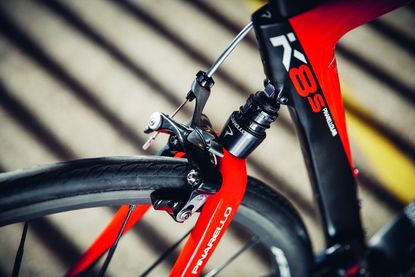 (Image credit: mike prior)
With the cobbled Classics underway, road suspension is a hot topic. Pinarello already has production bikes with rear suspension in its range and one of the pioneers of carbon frame design, Craig Calfee, has been quoted as saying that suspension will revolutionise road bikes. Could this be the start of a new era for road cycling?
The benefits
Mention suspension and most riders will cite comfort as the main benefit. "Suspension helps with the pain of a long ride. Reducing the pain allows the mind to focus on pedalling and keeping cadence high and constant, enabling the body to recover quicker," explains Mark Swift of British brand USE, whose Vybe suspension seatposts have become increasingly popular in recent years.
>>> Endurance bikes: a complete buyer's guide
A suspended frame or fork also helps the wheel to maintain contact with the ground over rough roads. As the contact remains more consistent, grip levels through cornering and accelerations are higher. This should lead to fewer crashes.
It is also easy to see how this ground tracking could aid climbing as the suspension helps the rear wheel 'dig in'. Also, as the rider is not moving so much on bumpy roads, more energy can be put into forward momentum, leading to higher average speeds.
Active and passive
Most designs can be split between active and passive styles. An active design normally utilises some form of shock absorber within the frame to yield more controllable movement.
Typically with road frames these units tend to be situated at the top of the seatstays, close to the rider. Designs can then use pivots to allow the frame to move or, more likely, chain and seatstays that can flex. Suspension travel tends to be limited to 10-20mm. The Pinarello Dogma K8-S and Calfee Manta are good examples of this.
A passive system has no traditional moving parts or dampers. These designs work mainly through the inherent qualities of materials used in frame construction. Differing grades and amounts of carbon are incorporated within thinner or flatter shaped tubes to add shock absorption. Most carbon manufacturers employ this system.
>>> The first carbon bikes fully made in Britain use F1 technology
Other manufacturers fit shock-absorbing rubber or elastomer inserts to frames to eliminate 'road buzz', working much like wrapping a tuning fork in a rubber band.
Specialized has the Zertz, Lapierre has SAT. Trek has been using the IsoSpeed Decoupler pivot to allow the seat tube of its Domane and Madone frames to flex back and forth considerably; as Jez Loftus from Trek UK pointed out, this style of suspension allows the rider to stay in the saddle for longer.
Bauke Mollema's pro bikes
Despite the apparent numerous advantages of a suspended design, most major manufacturers admit that active, rear suspended systems are low on their list of priorities.
With the increased costs of suspension frames and even the best systems having slight power transfer disadvantages, most of the big players are focused on carbon manipulation.
>>> Are electronic groupsets necessary?
Trek is working with NATO-spec carbons 'unavailable to the Taiwanese market' in its higher-end, US-built frames. Bianchi is focused firmly on Countervail carbon development to tune the ride of its bikes.
Despite these issues, the technologies are still growing and hopefully we might see other big names at the cobbled Classics sporting new designs.
Our take
It may just be a reoccuring fad but in many ways suspension makes sense. Britain's notoriously poor road surfaces and the rise of gravel road riding means riders are increasingly looking towards designs centred on comfort.
As with many new technologies, such as disc brakes, it is often acceptance by pro racers that limits the widespread uptake.
>>> Is it the end for the 34t chainring?
With most of the big names pushing carbon manipulation rather than suspended designs, it will be probably be some time before we see 'proper' production suspension in the mainstream.
But, like disc brakes, technology keeps rolling forward, and with companies such as Pinarello pushing to reduce the power transfer losses and costs, it might not be too long before more brands join in the fight.
King Kelly talks cobbles
Is road bike suspension the future?
Craig Calfee, designer and frame builder at Calfee Design
Suspension is faster and safer. It offers better traction for acceleration and cornering, reduces fatigue from vibration and the suspension itself reduces movement of the rider's mass vertically (over bumps) so more energy can be focused on moving forward. It's safer and race leaders will crash on high-speed descents less often.
Gruffudd Lewis, pro rider, Madison-Genesis
Personally I love the aesthetics of a traditional-looking frame. I think adding suspension can possibly take it a step too far. It would be a shame one day to see a road bike that looked nothing like the bikes of the past. There are advantages for the cobbled Classics, absorbing much of the 'bone shaking'. But that's why these races have such a reputation, why take it away?
Thank you for reading 20 articles this month* Join now for unlimited access
Enjoy your first month for just £1 / $1 / €1
*Read 5 free articles per month without a subscription
Join now for unlimited access
Try first month for just £1 / $1 / €1