"It would be great to see Froome on the track," says Merckx
Cycling legend Eddy Merckx thinks two-time Tour de France winner Chris Froome could benefit from winter track riding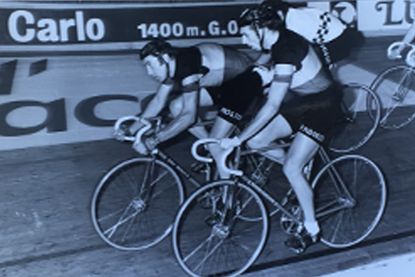 Five-time Tour de France winner Eddy Merckx thinks present champion Chris Froome should look to the track during the winter months to give him an edge over others when the road season starts.
Merckx was a prolific Six Day racer and attributes his early season success to the form those tough track meets gave him.
"Racing on the track was always very good preparation for me," he said.
"The reason I won Milan-San Remo seven times was because I raced during the winter on the track. I was always the best prepared, ahead of all the other riders."
Merckx won Grand Tours and Classics alike, whereas Froome is almost entirely focused on stage racing. Despite this, the Cannibal would love to see Britain's second Tour winner take to the boards.
"It would be great to see Chris on the track, he might even benefit from it and it would be an unbelievable spectacle for the fans to see him so close."
Froome, however, isn't the only British rider Merckx admires, describing Sir Bradley Wiggins as "a truly great champion".
"He's won three Olympic golds on the track, one on the road, world titles on the track and road and the Tour de France.
"Just look at how fast rode the Hour Record, it was a staggering performance and no-one will break that for a long time now in my opinion."
Merckx set the World Hour Record in 1972 and held it for over 11 years. At the time he's reported to have described it as the hardest race he'd ever done, so his praise for Wiggins is well founded.
Joining Merckx at an event to promote the upcoming return of Six Day London was his former racing partner Patrick Sercu.
Sercu is the most prolific Six Day racer of all time with 88 wins to his name. Despite being partnered with Merckx for many of these, he thinks he would have found even more success had Wiggins been around back then.
"Wiggins has everything," he admires. "He's won world and Olympic titles on the track and road, he's won the Tour de France, he's a great Six Day rider and a terrific endurance rider. If I was still riding I'd love to ride with Bradley, but Eddy needs a sprinter, like Mark Cavendish."
Despite riding the Madison with Wiggins at the Revolution Series in Derby earlier this year, Cavendish will be absent from the track this time round due to a shoulder operation following his race ending crash at the Tour of Britain.
How aero is your clothing?
What Merckx likes best about track racing, and what fans can experience when they go along, is the close proximity between riders and spectators.
"You're very close to the riders," Merckx enthused. "On the road the riders fly past you and you barely see them, but on the track, they pass you every 250 metres. It's completely different."
Six Day London is at Lee Valley VeloPark between October 18-23 - tickets now on sale at sixday.com.
Come and see the world's best track cyclists in action and be part of an electric party atmosphere at London's Olympic Velodrome.
Thank you for reading 20 articles this month* Join now for unlimited access
Enjoy your first month for just £1 / $1 / €1
*Read 5 free articles per month without a subscription
Join now for unlimited access
Try first month for just £1 / $1 / €1