Italian coach gives verdict on 2014 World Championship road race route
Italian coach Davide Cassani rode the route of the 2014 UCI World Champs road race in Ponferrada, Spain, and gave us his opinion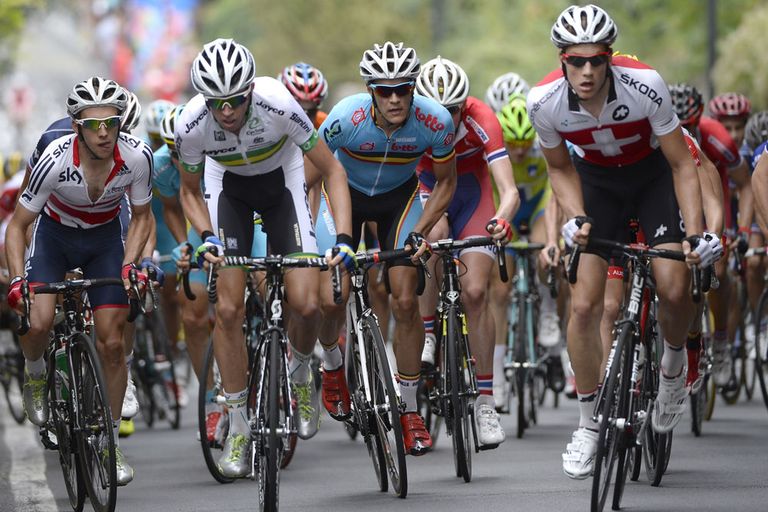 The UCI Road World Championships in Ponferrada, Spain, this year suits tough sprinters. Italian coach Davide Cassani assessed the race after riding two laps of the circuit yesterday in the country's cold northwest.
"It's not very hard," Cassani told Cycling Weekly via telephone while passing Ponferrada's castle. "The climbs are not difficult. The first climb is longer but it is five per cent. The second is short, it reaches eight per cent, but it's a kilometre long."
Cassani just changed clothes and dried off. He covered the 18.2-kilometre circuit twice in 1°C weather, one without and the other with "a lot of rain."
He looked around during his ride. He said that the castle and wall give the city charm but the rest of the area lacks something. In fact, the area is nothing like what the riders faced in Florence last year. They roads stretch wide and gently bend instead of squeezing through ancient Tuscan villas and turning sharply.
The professional men's race covers 254.8 kilometres on September 28. The circuit through Ponferrada and its northeast features two climbs, one 5.1 kilometres long and the second running 1.1 kilometres. The second climb, which climbs from 600 to 700 metres elevation, tops out with five kilometres remaining.
"Like Madrid in 2005? Maybe it's a hair harder. The climb reminded me a little of Benidorm in 1992 but easier," Cassani said.
"These roads are large and the climbs are gentle so the pros will be able to ride 30 kilometres an hour on the climbs. The descents are easy. The last one is straight in fact, so you don't need to brake. The first descent, 1.5 kilometres long, has some curves but they are not technical so you even have recovery time."
For the first time since 2009 in Mendrisio, Switzerland, the men's championship runs entirely on a circuit. Starting with 2010, the Union Cycliste Internationale (UCI) had the race cover a point to point, from Melbourne to Geelong, before the circuit race began.
"The result is more climbing," Cassani said. "The men cover 14 laps and that adds up to a lot of climbing metres, 4200. The last lap will be demanding but for sure the race is not for climbers."
He added that it is not for pure sprinters, like Great Briton's Mark Cavendish, because most of them will fall behind by the final lap. He named Slovak Peter Sagan (Cannondale) as the favourite. He climbs well and sprints well. He's very fast."
Cassani raced nine editions of the World Championships in his pro career spanning 1982 to 1996. For the last 18 years, he commentated for Italy's Rai television. This winter he took over the job from Paolo Bettini, who left to manage Fernando Alonso's new team.
"It was a strange feeling to put on the national jersey after so many years," Cassani said. "When I put it on, I made a point to look in the mirror. I was proud to put it on even if it was so cold today."