Italians set Valverde disciplinary hearing for May 11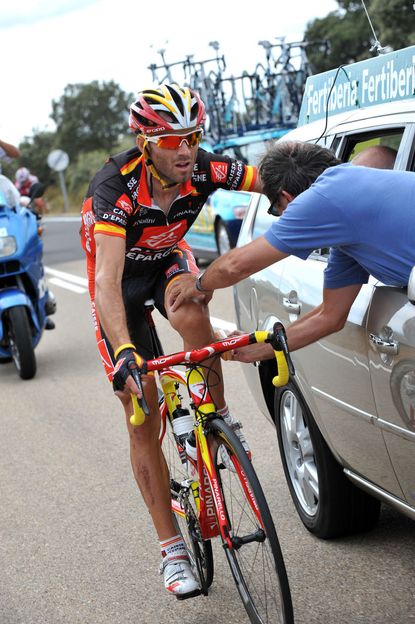 Alejandro Valverde's fate and future will be decided on May 11 when the Italian Tribunale nazionale antidoping will hold a disciplinary hearing in Rome and decide if the Spaniard is guilty of doping.
Valverde was recently formally accused of blood doping by the Italian anti-doping investigators after a long investigation and formal questioning in Italy.
The Italians insist that Valverde is guilty and claim they can prove it thanks to evidence obtained from the Spanish Operacion Puerto investigation. They have requested a two-year ban for the Caisse d'Epargne rider.
Valverde has always maintained his innocence and claimed the Italian Olympic Committee have jurisdiction to investigate him. He has even threatened legal action.
A verdict is expected within hours of the hearing on May 11, the same day stage three of the centenary edition of the Giro d?Italia ends in Valdobbiadene.
Valverde has planned his season around the Tour de France in July but he could be banned for two years in Italy and so not be allowed to ride the Tour de France when it passes through Italy during stage 16.
He can appeal to the TAS but the UCI could also decide to confirm any ban, meaning Valverde would not be able to ride anywhere in the world.
RELATED LINKS
Alejandro Valverde: Rider Profile
April 1, 2009: Valverde set to be banned from racing in Italy
March 25, 2009: Valverde wins stage 3 of Castilla y Leon
February 12, 2009: Valverde fights back over Puerto accusations
July 5, 2008: Is Valverde's win a good thing for the Tour de France?
January 11, 2008: Valverde back in anti-doping spotlight (again)
September 25, 2007: Valverde cleared by Puerto judge
September 18, 2007: UCI says it has new information on Valverde
August 30, 2007: Valverde expected to hand over DNA sample
August 30, 2007: Valverde banned from Worlds
Thank you for reading 20 articles this month* Join now for unlimited access
Enjoy your first month for just £1 / $1 / €1
*Read 5 free articles per month without a subscription
Join now for unlimited access
Try first month for just £1 / $1 / €1