Justyn Cannon flies to new military hour world record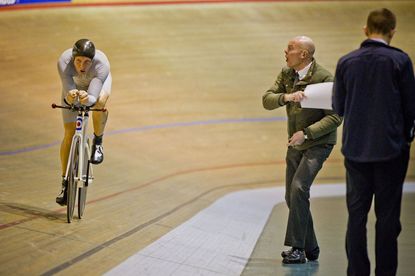 RAF engineer Justyn Cannon set a new military hour world record at the Newport Velodrome, Wales, on Monday.
Cannon, 39, set out to beat Paul Dotchin's 14-year-old record of 46.595km after a 17-year break from regular cycling - and he did it, setting a new mark of 47.222km.
Rhondda-born Cannon completed his ride on a Planet X track bike equipped with aero bars, and told Cycling Weekly last week that he was inspired in his attempt by the hour record battle between Graeme Obree and Chris Boardman.
"They are big inspirations for me and it's something I've always been interested in," Cannon said.
"I've actually got a DVD of Battle of the Bikes sitting on my shelf. I've watched it a few times recently and will definitely be watching it again before the ride."
After his successful attempt, Cannon described the experience in an interview with the BBC as 'horrible': "That was horrible, absolutely horrible. It just messes with your mind.
"Lap number one is horrible, as you're stressed about getting on schedule. Then each lap after that is horrible."
Last year, Cannon broke the Combined Services 10-mile time trial record with a time of 18-59.
Related links
Cannon inspired by British legends Boardman and Obree
Thank you for reading 5 articles this month* Join now for unlimited access
Enjoy your first month for just £1 / $1 / €1
*Read 5 free articles per month without a subscription
Join now for unlimited access
Try first month for just £1 / $1 / €1