Katie Archibald column: Hitting the gym early to feel smug
"It's important one experiences London every once in a while to put the stresses of Manchester into perspective and confirm Glasgow as the city for you"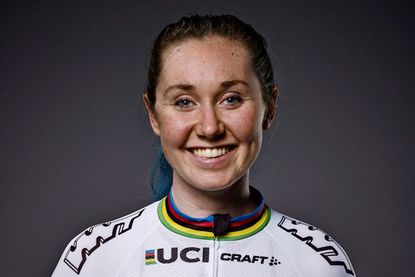 (Image credit: Nick Hill)
Olympic and world champion, Katie Archibald got into cycling after winning handicap races on a Highland Games grass track. She writes a column for Cycling Weekly each week
I was in the gym before 7am this morning. I am feeling unbelievably smug.
I was out of the gym by 8am, with the bulk of that hour filled by warming up and looking in the mirror, but, boy, have I nailed getting that tiny volume of heavy lifting done before London wakes up on a Sunday.
And now I get to write about it in a nationally published magazine! My ego hasn't had this much indulgence since yesterday.
I'm in London for various reasons. Firstly, it's important one experiences the stresses of London every once in a while to put the stresses of Manchester into perspective and help confirm low-stress Glasgow as the city for you. But also for a dinner and a race.
>>> Katie Archibald column: Why I won't be getting an Ironman tattoo
The dinner was an auction event in aid of Action Medical Research, a charity that helps sick and vulnerable babies by funding vital research.
I was surprised to learn how many medical breakthroughs come through charitable funding, especially for rare diseases, by organisations such as AMR. They've been making huge differences to children's lives for 65 years and raised over £206k at the dinner.
The race was the first round of the Revolution Series and it was a belter *repeated theme of the last season-and-a-half klaxon* We had another Madison first.
Organisers this year put on the same programme for men and women meaning me and my Team WNT team-mate Hayley Jones (and I suspect almost every other rider in the field) rode our first ever Madison Elimination (an elimination race but in teams with Madison slings). We won the badger.
The rest of the day's racing included a scratch race (with world champion Rachele Barbieri), a points race (with world champion Elinor Barker) and two other non-UCI races.
We, Team WNT, won four of the five events and I've already written "To whomever was calling the eliminated riders in the elimination scratch" to let them know I definitely wasn't out, they heavily dented our chances of a full house, and they should probably have someone else take the first sip of all their drinks from now on.
Thank you for reading 20 articles this month* Join now for unlimited access
Enjoy your first month for just £1 / $1 / €1
*Read 5 free articles per month without a subscription
Join now for unlimited access
Try first month for just £1 / $1 / €1