Kettering Cycling Club
Owen Rogers visits Kettering Cycling Club to weather the storm with this hardy Northants set-up. In association with Powerbar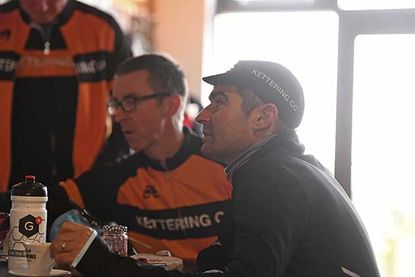 (Image credit: Andy Jones)
A little bit of meteorological adversity was never going to deter the cyclists of Kettering, a town which has hosted organised cycling for well over 100 years. So, despite the tail-end of winter's first storm lashing Northamptonshire, plenty of Kettering Cycling Club's orange and pink jerseys arrive to meet Cycling Weekly for their club run.
Though the club has only been around in its current form for 17 years, it was established after the town's Friendly and Amateur clubs merged at the turn of the millennium.
One of our number, Steve Wong, first joined Kettering Amateur in the 1980s, but drifted away from the sport, rejoining only last year. However, his connection goes right back to its beginnings in 1890.
"My great-grandfather was one of the founding members," Wong says. "I only found out last week when my mum told me. I've got his trophy at home — he raced a penny-farthing and did a 35-minute 10."
>>> Find a cycling club near you
Indeed, time trialling still dominates the modern club's competitive activities.
"We hold 31 events each year," club chairman Gavin Hinxman tells us. The first of the season is in March and they constantly switch the circuits, the shortest being 9.4 miles, the longest a 50.
"There's a friendly rivalry," Hinxman continues. "We even run a road bike-only championship alongside the men's, ladies' and junior championships, and the season ends with an inter-club hill-climb against our rival club, Rockingham Forest Wheelers."
The racing doesn't stop there though. The club also host three open time trials — two 20s and a 10 — as well a round of the Northants and District Cycle Association road race series and a cyclo-cross race.
Coincidentally, the latter had been held the day before CW visited, and as we roll past the scene just outside town, much of the chat among our group was of members' experiences either racing or helping out.
The club has some excellent roads to choose from, especially where we are headed, north towards Rutland, and the plan is to split on some of the short, steep climbs leading up to the coffee stop. We pass over a number of local road race circuits, the route of more than one sportive, even the 2015 Women's Tour has left its mark on many of the surrounding Strava leader boards.
Wong has clearly inherited his great-grandfather's strength and, rejuvenated after a strong coffee, he is taking advantage of fresh legs to bag himself some Strava personal records. He powers up those short, sharp climbs, slick with a mix of autumn leaves and farm mud, before waiting for the rest of us at the top.
One of the few equal to him on the inclines is Mark Evans, the club's youth development officer.
When the two original Kettering clubs formed, one of their aims was to develop youth cycling in the town, and Evans has certainly taken this to heart.
"About three years ago they asked if I wanted to take over," he explains. "So I wrote a strategy that talked about trying to have a feeder system for the club which involves kids of Go-Ride age, 6-18. I got the coaching exams and built it up."
The result is Kettering Cyclones, who meet at four different locations around the town, each taking turns hosting training every Monday. They stage seven Go-Ride races a year, have just broken the 100-member mark and have 30 bikes for use by members.
"The whole ethos is they can race on those without being disadvantaged," Evans continues. "I've forged a good relationship with C & D Cycles in the town, so they can get free servicing.
"I've got a real busy day job, but everything I dreamed about three years ago is coming to fruition."
Nursing her legs on the back of the group after yesterday's racing, Cyclones graduate Maria Gent is testament to Evans's dream. Now a coach, riders like her personify what the club has put in place to ensure Kettering jerseys will be storming the roads of Northamptonshire for years to come.
Club facts
Based: Kettering, Northamptonshire
Members: 206
Formed: 2000
Meets: 9am each Sunday at Sainsbury's, Rockingham Road, Kettering
Website: www.ketteringcyclingclub.co.uk
History
Despite being formed in 2000, Kettering CC has a long, proud heritage, formed as it was from the amalgamation of two other clubs.
Kettering Amateur started life in 1890, formed by John Bosworth, a local cycle and motorcycle dealer who created an inflatable bicycle tyre. Sadly Mr. Dunlop registered a patent before Bosworth, something which may have influenced the ban on pneumatic tyres at club events of the era.
Though it was suspended during both the First and Second World Wars, Amateur thrived as a racing club.
Kettering Friendly was established in 1945 primarily for leisure cyclists, though that did not last long as younger members began competing. In 1952 the club successfully appealed a one-year competition ban for hosting an unregistered massed start event and went on to build an enviable reputation as a racing club which lasted through to the 1980s.
Both clubs raced regularly on the velodrome which now forms part of the go-kart track at Wicksteed Park, a local theme park, but in 1999 old rivalries were put aside and merger talks began. The club's first event, a hilly 20-mile TT, attracted 44 members and while membership has fluctuated, it has always run a full calendar of races.
Achievements
Riding as part of the Go-Ride section, George Evans won the 2015 Central Cyclo-Cross league U16 series. This year his club-mate, 13-year-old Bethany Spencer, rode the 100 miles from Northampton to Hunstanton, Norfolk with her father, raising money for the British Heart Foundation.
Club chairman Gavin Hinxman won a number of open time trials in 2016 and was first in his age group at the national closed road TT held at Thruxton. He's not the club's only age group national champion, however: Stu Walters won the 75-79 group at the LVRC National Time Trial Championships.
Kettering CC club run
Ride highlights
1 Stoke Road
Short and sharp, this climb is typical of the area. As you grind your way up the 10 per cent slope you'll battle the wind whipping across the exposed fields.
2 Horninghold to Tugby
All big-ring stuff, this run undulates with a series of uphill sprints. Each will sap your legs but you can recover on the descents before taking on the next dig.
3 Stoke Albany Road
A couple of short double-digit ascents punctuate this two-mile section. A strong rider will manage both in the big ring, maximising speed on the fast predictable descents.
Favourite café
Café Ventoux could be described as the ultimate cyclists' cafe. With your bike parked on the purpose built racks, inside you can sit at large tables in the main area or on the mezzanine to refuel.
Tugby Orchards, Wood Lane, Tugby, LE7 9WE. 0116 259 8063
Thank you for reading 20 articles this month* Join now for unlimited access
Enjoy your first month for just £1 / $1 / €1
*Read 5 free articles per month without a subscription
Join now for unlimited access
Try first month for just £1 / $1 / €1