Lance Armstrong takes to social media after fake news sites spread rumours that he'd died
Former rider still very much alive and well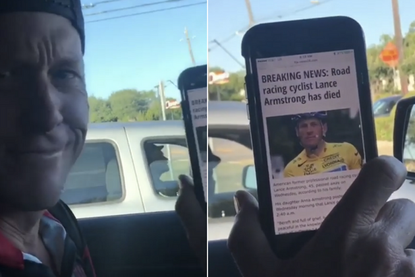 Lance Armstrong has taken to Instagram to prove that he is very much alive and well after rumours that he had died circulated online.
The former rider looked understandably unamused as he held the headline of an online story up to the camera, captioning his post with the Mark Twain quip "the rumors of my death are greatly exaggerated".
>>> Lance Armstrong and former US Postal team-mates finish third as they return to racing together
The story, headlined "BREAKING NEWS: Road racing cyclist Lance Armstrong has died" has been circulating on a number of fake news sites over the last few days, falsely claiming that the 45-year-old's demise had been been confirmed by his daughter.
Former US Postal general manager Johan Bruyneel was one of those to make light of the incident, replying "I had the unique experience to talk with a dead person on the this morning. I was relieved to hear your voice though..."
Thank you for reading 20 articles this month* Join now for unlimited access
Enjoy your first month for just £1 / $1 / €1
*Read 5 free articles per month without a subscription
Join now for unlimited access
Try first month for just £1 / $1 / €1