Letizia Paternoster sustains wrist fracture after collision with a car
The Trek-Segafredo rider was hit on her second training day after an off-season break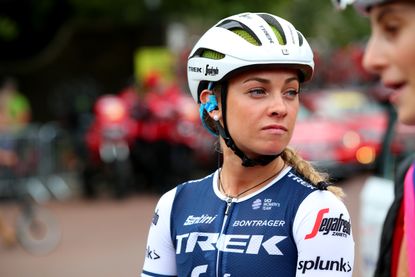 (Image credit: Getty Images)
Trek-Segafredo rider Letizia Paternoster has sustained a fracture to the wrist and broken tooth after being hit by a car whilst training.
X-rays have revealed that the 20-year-old has a fractured left scaphoid, following the slow speed collision which took place at a roundabout between Arco di Trento and Riva del Garda, in Italy.
The incident took place at 9.30am on Friday, and Paternoster was transported to Arco hospital in an ambulance. She remained conscious throughout and did not suffer any concussion.
In a press release, Trek-Segafredo team revealed: "neither Letizia nor the vehicle were travelling at high speed and the driver immediately stopped to provide assistance until an ambulance arrived."
The team doctor, Nino Daniele commented: "Letizia suffered a small detachment on the lateral side of the left-hand scaphoid and a front-tooth fracture which was repaired by her dentist after leaving hospital. Regarding the scaphoid, the doctors in Arco applied a transitory cast to keep it immobile.
"In the afternoon, Letizia was visited by an orthopedist who confirmed that she does not need surgery. As a precaution, tomorrow she will be submitted to a MRI scan and the cast will be replaced with a small tailored cast. This will allow her to put her hand on the handlebar and ride on a home trainer. The prognosis for full recovery is 30 days."
Paternoster has re-signed with Trek-Segafredo for the 2020 season, having joined the team in 2019 from Astana. She opened her account with the team, in its inaugural year, by winning the first stage of the Tour Down Under in January.
She also rode to third at Ghent-Wevelgelm, in an elite women's field where victory went to sprinter Kirstin Wild.
After treatment, the former junior track world champion said: "Everything happened so quickly that I was not able to understand. I only reacted with my hand to lessen the fall. When I calmed down, I was able to tell that my head was ok, then I focused on my hand."
Paternoster says the incident took place on her second day training after an off-season break.
"The disappointment is huge," she said. "Of course, it's not the best way to start the new season, but despite everything I want to look ahead, think positive and react. A hand fracture must not affect my preparation for the important 2020 season."
Earlier this month, British pro Adam Kenway was hospitalised after being knocked off his bike by a van on the way home from work.
The 32-year-old, who rides for Vitus Pro Cycling, was taken to hospital and is said to be "very lucky" to have emerged relatively unscathed from the incident, which took place around 6pm on November 15.
Kenway's partner was called by police to inform her of the incident, an experience she said was "terrifying", with the rider having also been hit by a car while riding in 2016.
Thank you for reading 5 articles this month* Join now for unlimited access
Enjoy your first month for just £1 / $1 / €1
*Read 5 free articles per month without a subscription
Join now for unlimited access
Try first month for just £1 / $1 / €1