Lex Nederlof: Oldest rider in the pro peloton
At 47 years old, Dutchman Lex Nederlof can rightly claim to be the oldest active rider on a UCI-registered team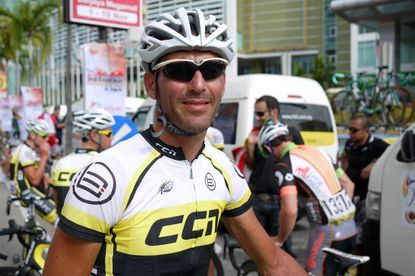 (Image credit: Gregor Brown)
Chris Horner and Jens Voigt have nothing on 47-year-old Lex Nederlof, the oldest active cyclist in a UCI-registered team. In Malaysia's Tour de Langkawi this week, the Dutchman of team CCN Cycling races alongside riders more than half his age, like second placed 20-year-old Merhawi Kudus (MTN-Qhubeka).
Nederlof, 48 this June, told Cycling Weekly, "These guys like Merhawi and Theo Bos know. They know by now how old I am."
His grin caused creases in his tanned face. Nederlof lives in northern Thailand but helps run the CCN team, Brunei's first UCI-registered team. The country produces good cyclists but not enough to field a strong team in the 2.HC Tour de Langkawi.
Nederlof knows what it takes to race at the top because he stood on the edge and never stepped over. He rode for amateur teams from the Netherlands to Luxembourg, and teamed with Bjarne Riis and Jesper Skibby. The closest he came to joining a professional team was when he road as a stagiaire for Superconfex at the 1988 Nissan Classic or Tour of Ireland.
"The problem for me in that time was that the Iron Curtain opened, so a lot of Eastern European riders came on the market and that made it pretty difficult for me to turn professional," Nederlof said.
"In that time there were also many Dutch riders that had a good level. I stayed amateur but kept on having the spirit and motivation. I never stopped, so for me it's like a continuous story. I decided to do more exploring and go to other continents. That's how I ended up in Asia, and racing the last seven or eight here in Asia."
Sitting on a black and yellow carbon bike in a similar coloured jersey, he rolled down the ramp from the hotel with teams Belkin, Tinkoff-Saxo and Europcar. Several sports directors, especially the Dutch ones, nodded.
"I know quite a few from riding," Nederlof said. "I'm still riding and they are in the car. Riding is more enjoyable than sitting in the car."
Last year, he collected UCI points by winning the Melaka Cup and placing second in a stage at the Jelajah Malaysia, both .2 races.
"This is a hors category race, I can still follow but I can't make a difference. That's normal because you are dealing with WorldTour teams here, but in the 2.2s, I can be of additional value of the team. That keeps me going."
German Jens Voigt (Trek Factory Racing), 42, is the oldest first division rider. Davide Rebellin, in the second division with CCC Polsat-Polkowice, tops him by nearly three months. Though 55-year-old Louis Garneau sponsors and fields himself in his own team, he is not racing UCI-registered events which makes Nederlof the granddaddy of the peloton.
American Chris Horner makes 2014 season debut for Lampre-Merida at the Challenge Mallorca
Barring a freak incident, Chris Horner will win the Vuelta a Espana tomorrow at the age of 41
Thank you for reading 5 articles this month* Join now for unlimited access
Enjoy your first month for just £1 / $1 / €1
*Read 5 free articles per month without a subscription
Join now for unlimited access
Try first month for just £1 / $1 / €1