'Too little too late': Cycling charity criticises government's extra funding for 'patchwork' pothole repairs
Extra £100m for pothole repairs won't address long-term problem, says Cycling UK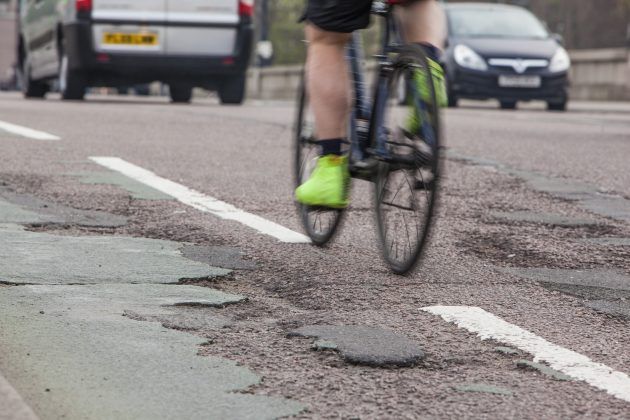 (Image credit: Chris Catchpole)
National cycling charity Cycling UK has expressed disappointment at new government money for pothole repairs, saying that it will only fund "patchwork jobs" and is "too little too late".
Transport Secretary Chris Grayling announced on Monday that the government would invest an extra £100 million to help councils fix potholes, on top of the £75 million investment that had already been announced over the winter in the Pothole Action Fund.
According to the Department for Transport, the extra money will be enough to fix nearly two million potholes and to protect the roads from further severe weather. However the investment has been criticised by Cycling UK as not providing a long-term solution to the UK's pothole problem.
>>> This council's tweet to show off how it fixes potholes backfired spectacularly
"Any funding which will help improve our roads is welcome, but it does not change the fact it is still too little too late," said Cycling UK's senior campaigns officer Sam Jones.
"Giving money simply to fill potholes is the same as if a doctor had put a broken leg in plaster before setting the fracture. The bone is still weak, poorly healed and more likely to break again.
"The same can be said for our roads too if we persist in just funding patchwork jobs rather than full scale road resurfacing."
Watch: Five beginner tips for setting up your Garmin
The government's investment comes after an Asphalt Industry Alliance (AIA) study which found that 24,000 miles of British roads were in need of essential maintenance, a repair job would cost a staggering £9.31 billion and take 14 years to complete.
The AIA study also highlighted the short-term nature of the repairs to Britain's roads, with roads only being properly resurfaced - rather than merely matched up - every 78 years on average.
Cycling UK's own figures, released on Sunday, also highlight the huge cost to councils of compensation claims and legal costs connected to crashes caused by potholes.
>>> Cyclists' guide to dealin with potholess
According to the charity, local authorities have spent more than £43 million - the equivalent of 17 per cent of the government's Pothole Action Fund - on compensation and costs to pothole crash victims over the last five years, with Jones saying that the short-termist approach to pothole repairs is putting the public at risk.
"Cycling UK's research has shown the true cost is a human one as people cycling are suffering from personal injury and in the worst cases even dying," Jones continued .
"The government should concentrate on fixing the underlying problems of our current local roads network before building new ones. Councils need enough funding to adopt long-term plans for roads maintenance, as repairing streets only as they become dangerous can only ever be a short-term solution."