London's Cycle Superhighway 1 to be extended following consultation
Construction of CS1, which will run from Tottenham to the City, is due to start in July 2015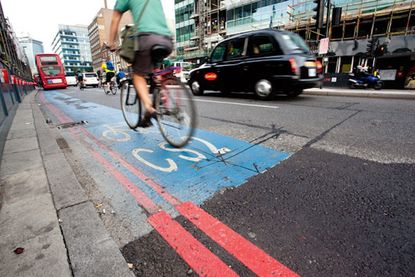 The new cycle superhighway which will run through London from Tottenham to the City has been expanded following a positive public response to Transport for London's consultation period.
Among the changes to Cycle Superhighway 1 (CS1) - of which 77 per cent of more than 1,000 respondents were supportive - are greater, area-wide closures of residential streets to through traffic, and an alternative route at the northern end to avoid parts of St Ann's Road.
The scheme will also include major enhancements to the 'Apex Junction' between Great Eastern Street and Old Street, while there will be new segregated tracks, safer pedestrian crossing points and improved public spaces, including 60 new trees.
>>>Superhighways, Crossrail and Quietways: A complete guide to London cycleways
Feryal Demirci, cabinet member for neighbourhoods at Hackney Council, said: "I have been delighted by the outpouring of support for the route and the demands to go further to create traffic-free streets.
"We therefore intend to be more ambitious than we initially proposed."
Confirming plans for area-wide street and road closures, Cllr Demirci said: "This will be the first time in London that we will be creating a safe haven for cyclists and pedestrians over so wide an area."
CS1 will run parallel to the A10, with TfL envisaging that travelling along it will cut journey times between the City and Tottenham to 30 minutes, compared to around 40 minutes on the main road.
Mayor Boris Johnson said: "This new route will be the A10 bypass, wafting you in tranquility to within a few feet of the urban centres of Dalston, Stoke Newington and Tottenham.
"It will be a pleasure to cycle on and I expect it to introduce thousands more people to the joys of cycling."
For more information on the plans, visit TfL's website here.
Thank you for reading 20 articles this month* Join now for unlimited access
Enjoy your first month for just £1 / $1 / €1
*Read 5 free articles per month without a subscription
Join now for unlimited access
Try first month for just £1 / $1 / €1