Nine amazing training camp photos that will make Lotto-Soudal your new favourite team
Featuring Andre Greipel in a cave, on a beach, and playing the lottery.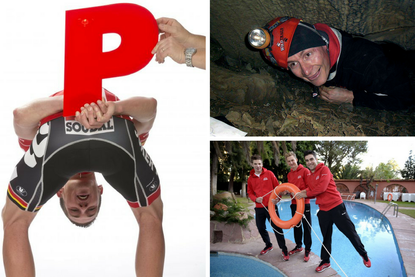 (Image credit: Watson)
Without meaning to cause any offence to Lotto-Soudal, they're a team that has never really managed to grab my attention.
Don't get me wrong, I'd prefer them to keep doing what they're doing and picking up consistent results than getting into three-month Jiffy bag sagas, but they've never been the team with a huge amount of personality.
>>> Which WorldTour team has the best kit for 2017?
At least that was the case until I saw some of the antics from their pre-season training camps, which seem to have become something of a tradition over the last few years.
Here are a selection of some of the most ridiculous that will make Lotto-Soudal your new favourite team.
André Greipel: always good at spotting a gap
"Right lads, the hotel's giving us free rooms and we've got to give them some sort of promo. Maybe go and pose by the pool with the lifebuoy."
This is a promo shot for the Lotto sponsor, but I think Greipel could be one the phone with his agent to find a new team for next year.
Jurgen Van Den Broeck putting in some vital pre-season celebration training...
... while Kenny De Haes has been watch too much football during the off-season.
Bell, the team's helmet sponsor, really getting its money's worth.
Seriously impressive in cleats.
Nope, I've no idea either.
Our man Greipel not having quite as much fun as he was in the cave.
(All photos by Watson)
Thank you for reading 5 articles this month* Join now for unlimited access
Enjoy your first month for just £1 / $1 / €1
*Read 5 free articles per month without a subscription
Join now for unlimited access
Try first month for just £1 / $1 / €1