Luke Rowe: Why a good training partner is so important
"The perfect training partner is on time, motivated, reliable, has all the necessary kit, a tale to tell and knows a good route"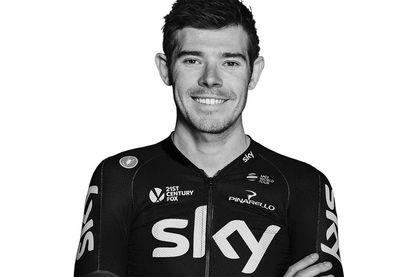 Welshman Luke Rowe is Team Sky's Classics specialist and often the team's road captain, and he writes exclusively each week for Cycling Weekly. He's also a huge Cardiff Devils ice hockey fan
Us professional cyclists ride pretty much every day of the year and rack up a fair few hours in the saddle. And the best way of passing these long, and sometimes boring, hours is to surround yourself with a good few training partners.
The perfect training partner is on time, motivated, reliable, has all the necessary kit, a tale to tell and knows a good route. I have yet to meet this perfect person but I've got a few guys around me who come pretty close.
On time: most of the guys who come from the British Cycling programme are good — it's the way it's always been. Be on time or you may be riding alone. Owain Doull is the top time man!
>>> Luke Rowe reveals his cycling heroes
Motivated: you don't want a whinger. Geraint 'G' Thomas is solid; he's the guy who will always push you and suggest the extra hour.
Reliable: if you say let's meet at the cafe at 10am and go from there, you don't want a phone call at 10:08 from someone saying, "I'll be there in five minutes," or someone who will bail on you if it's raining.
Sam Harrison lives in Wales all year round and gets some horrific weather, so come rain, hail, sleet or snow he won't let you down!
All the gear: simply, being equipped for a puncture, have some cash in their pocket and a rain jacket. One name instantly springs to mind: Swifty [Ben Swift] — so organised, he even carries a Swiss Army Knife in his saddlebag.
A storyteller: only recently did I start riding with Astana's Michael Valgren and he's a top lad, a rival when we race but a top mate any other time. I recently did a six-hour ride with him and a few others, and it flew by. He didn't shut up but it was great, full of funny stories.
Route master: you need someone who will occasionally show you a new road or a new climb; someone who knows all the twists, turns and cafes. Ian Boswell is king here. He knows all the roads down in the south of France and never ceases to get me lost despite living down there myself.
So all that is left to do now is somehow merge all the aforementioned folk and their respective attributes together and I would have the perfect training partner.
Thank you for reading 20 articles this month* Join now for unlimited access
Enjoy your first month for just £1 / $1 / €1
*Read 5 free articles per month without a subscription
Join now for unlimited access
Try first month for just £1 / $1 / €1