Luke Rowe spills the beans about life as a professional cyclist
What does Luke Rowe tell people in airports when they ask what's in his bike box?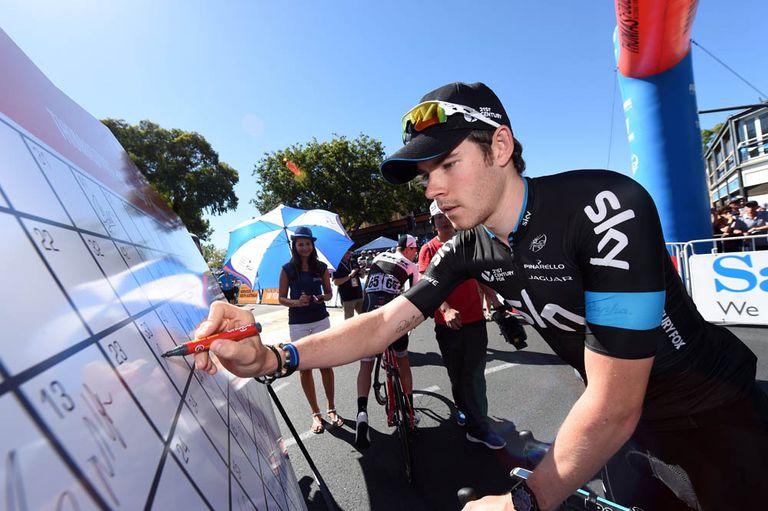 (Image credit: Watson)
While his Team Sky colleagues may have their heads in their iPads on the team bus, Luke Rowe says he'd rather have a natter.
In an interview with the Telegraph's Mark Bailey the 25-year-old talked about his battle with keeping his diet in check, his favourite roommates and his constant battle with pain.
>>> Ghent-Wevelgem in the rain a love/hate affair for Rowe and Dowsett
It's clear that Rowe likes to maintain a sense of humour when it comes to his day job, admitting he rolls out the same joke every time every time someone asks what is in his bike bag.
He said: "If I'm at an airport with my bike box, some people come up and ask: 'what is in that big bag?' So I always tell them: 'It's my pony.'
"I have done it since I was about ten years old. I just pat the bag and say, 'There boy, there boy.' I have probably done that to about 100 people over the years.
"The look on their face when you tell them you have a pony in your bag is priceless. People look at you as if you've got ten heads. But I just keep a straight face, pat my bag and walk off."
>>> Luke Rowe: eighth in Roubaix a sign of things to come
When he's not jetting off for races, Rowe says he enjoys the camaraderie he shares with amateurs when he's out on training rides. One minute he'll let them catch his wheel, the next he leave them in his dust.
"Most people just want to say hello and look at your bike," he said. "Or they might hop on your wheel for a couple of kilometres.
"That's what is so great about cycling. It's so accessible. If someone wants to hop on my wheel for a couple of kilometres, I don't mind. Good on you. Crack on, mate. Until we come to the next climb and then…"