Ghent-Wevelgem in the rain a love/hate affair for Rowe and Dowsett
While Alex Dowsett doesn't like the cold and wet conditions at Ghent-Wevelgem, Luke Rowe doesn't mind them at all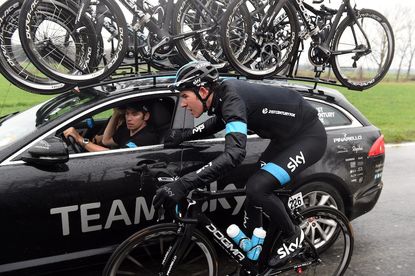 (Image credit: Watson)
Racing in Belgium is like Marmite, according to Alex Dowsett, and while he is not a big fan of racing on the wet cobbles Team Sky's Luke Rowe is at the other end of the spectrum.
Dowsett and Rowe shared an embrace in the sign-in area before Ghent-Wevelgem kicked off in Deinze, having both been drenched from the two-minute pedal over from their team buses parked around the corner.
While Movistar's Dowsett, in just his third race back from a broken collarbone suffered in January, was visibly miserable, Rowe approached his fellow Brit positively beaming at the prospect of riding 240km in the pouring rain.
"No, no, no," Dowsett told Cycling Weekly when asked whether he was looking forward to the challenge.
"It's not really the wet cobbles that are the problem, it's more the fighting for position that I'm not a massive fan of here. It wasn't nice to see all the crashes in E3. It'll be some good miles in my legs though, but if it goes bonkers I'm not sure I'll see the finish line.
"It's great to see Luke doing so well, we go back a long way. He loves this kind of thing and I don't like it that much! Racing in Belgium is like Marmite; you either love it or hate."
>>> Ghent-Wevelgem 2015: Who will win?
Dowsett ensured he got out the way of all the jostling for position on the narrow roads through Flanders Fields by joining the seven-man breakaway at the start of the race.
Rowe, meanwhile, was looking to make the most of the inclement conditions and build on his 13th-place finish at Friday's E3 Harelbeke.
"The weather is the same for everyone so you've just got to deal with it," he told us. "It's certainly going to add an extra element to the race, making it that much more messy and stressful.
"We're all up for it and the weather doesn't really faze me much. It's super windy out there, so a bunch sprint is out of the question. It's about having numbers at the front because it's going to be a reduced group that makes it to the finish.
"I went to shake Alex's hand and he said he wanted a hug, so a friend in need is a friend indeed, so if he wants a hug I'll give him a hug."
Thank you for reading 20 articles this month* Join now for unlimited access
Enjoy your first month for just £1 / $1 / €1
*Read 5 free articles per month without a subscription
Join now for unlimited access
Try first month for just £1 / $1 / €1