Luke Rowe tames Alpe d'Huez and describes what Chris Froome is really like
The Welshman on course to finish his debut Tour de France in Paris on Sunday.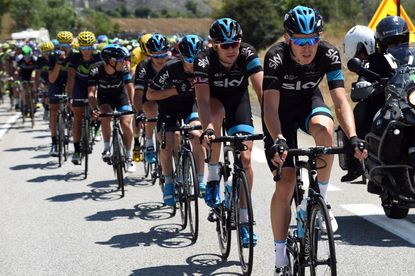 (Image credit: Watson)
Welshman Luke Rowe said fan support helped him tame L'Alpe d'Huez during Saturday's 20th Tour de France stage, and described race-winner elect Chris Froome as a "pit bull".
The 25-year-old has impressed on his Tour debut, and was once again visible pulling on the front during the penultimate stage of the race in the Alps.
"There was a lot of encouragement and a lot of happy fans," he said of the Alpe's famed support. "I've felt my legs up every single climb, but today [on the Alpe] I didn't feel them, I was buzzing off it.
"It was a big goal to get through the race and I've done that. The most important thing was to make it to Paris with the yellow jersey. It's emotional to settle in and think of what we've achieved.
"I was going back to the car as I was struggling to hear through the radio [for race updates]. When I finally went back and found that Chris had [finished with] a minute advantage still on GC, it was incredible."
Rowe's work in the Vuelta last September played a significant part in Froome adding the former British Cycling Olympic Academy Programme rider to his trusted circle of domestiques for the Tour.
And the Welshman believes that his never-say-die attitude is what makes him such a good leader.
"The word that epitomises him is pit bull - he's ferocious," Rowe added. "He seems tame but he just wants to get out there and smash everyone.
"But as soon as you finish the job, he's there to pat you on the back and give you a man hug. He's so appreciative in what you do; that's part of what makes a good leader."
Thank you for reading 20 articles this month* Join now for unlimited access
Enjoy your first month for just £1 / $1 / €1
*Read 5 free articles per month without a subscription
Join now for unlimited access
Try first month for just £1 / $1 / €1