Madison confirmed to feature at the 2020 Tokyo Olympics
The men's Madison was removed from the Olympic track schedule after 2008 and has never been included in the women's programme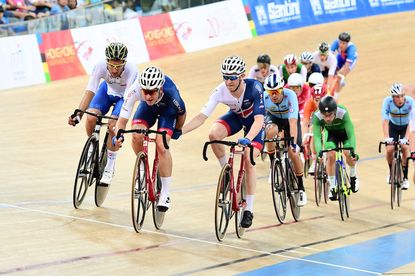 (Image credit: SWpix.com)
The Madison has been reintroduced to the men's Olympic track programme tomorrow, and added to the women's schedule for the first time.
The executive board of the International Olympic Committee (IOC) are expected to approve the inclusion of the Madison for the Tokyo 2020 Games, insidethegames (opens in new tab) reports.
It was last included in 2008 when, memorably, favourites Mark Cavendish and Bradley Wiggins failed to win gold for Great Britain.
It hasn't featured in the London 2012 or Rio 2016 Games but has remained ever-present at the Track World Championships, where Cavendish and Wiggins won gold last year.
The discipline was added to the women's programme at the Worlds this year when British duo Elinor Barker and Emily Nelson took silver.
There has long since been support at British Cycling and other national federations for the Madison to be added to the Olympic programme, a stance supported and pushed by the UCI.
The women members of the GB team practised the Madison each week throughout the winter and all raced with one another.
Now the Madison is added to the Tokyo schedule, it takes the number of track events from 10 to 12 and provides equal parity in the gender ratio of events; however, there isn't expected to be an increase in the number of riders - it is thought that the Madison rider would have to come from the endurance squad.
Iain Dyer, BC's head coach, told Cycling Weekly in April: "A Madison rider has to be a very good bunch racer, and a very good endurance and tactical rider. Riders are interlinked. We are keen for people to explore all the opportunities [of partners].
Rob Hayles and Wiggins earned a bronze medal in the discipline at Athens 2004.
The IOC met to approve new disciplines for the Tokyo Games. BMX freestyle park - an event where riders perform tricks and stunts on a skate park - has also been added.
Thank you for reading 5 articles this month* Join now for unlimited access
Enjoy your first month for just £1 / $1 / €1
*Read 5 free articles per month without a subscription
Join now for unlimited access
Try first month for just £1 / $1 / €1