Madison Genesis wins 2015 Tour Series after Bath finale (photos)
Madison Genesis overhaul arch rivals One Pro Cycling in the final Tour Series round in Bath, as Dani King wins final Matrix Fitness Grand Prix round. Photos by Andy Jones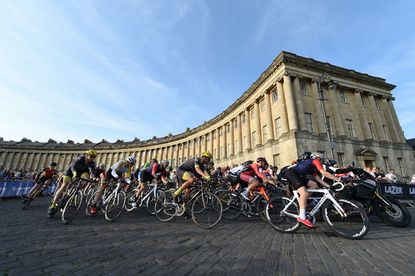 (Image credit: Andy Jones)
Madison Genesis was crowned overall team winner of the 2015 Pearl Izumi Tour Series after the final round in Bath on Thursday evening.
One Pro Cycling had gone into the final round with a slim lead over arch rivals Madison Genesis, but a crash for key One Pro Cycling rider Yanto Barker meant that they lost out on the 2015 title.
However, a successful late attack by One Pro Cycling's Marcin Bialoblocki meant that the squad did leave the picturesque Georgian city with the round victory, Bialoblocki's second of the series.
Tobyn Horton (Madison Genesis) out-sprinted Kristian House (JLT Condor) for second place on the tough circuit that included a section of cobbles outside the iconic Royal Crescent.
Earlier in the evening, Dani King (Wiggle Honda) had secured a solo victory in the finale round of the 2015 women's Matrix Fitness Grand Prix. Nikki Juniper (Giordana Triton) won the series overall, but not after a mishap on the closing laps in Bath as she punctured and had to furiously chase back on.
Pearl Izumi Sports Tours International took the overall team prize for the Matrix Fitness Grand Prix.
Television highlights from the final round of the Pearl Izumi Tour Series in Bath will be shown on ITV4 at 8pm on Friday June 12 with a repeat on the same channel at 11.40am on Saturday June 13.
Results
Pearl Izumi Tour Series, Round 10, Bath
Team Result
1. Madison Genesis
2. Pedal Heaven
3. Team Raleigh GAC
Individual Result
1. Marcin Bialoblocki, ONE Pro Cycling
2. Tobyn Horton, Madison Genesis
3. Kristian House, JLT Condor presented by Mavic
Costa Express Fastest Lap
Ed Clancy, JLT Condor presented by Mavic, 1:53.864
Chain Reaction Cycles Points competition, round 10 winner
Marcin Bialoblocki, ONE Pro Cycling
Pearl Izumi Tour Series Final Standings
1. Morgan Kneisky, Team Raleigh GAC, 84pts
2. Tom Stewart, Madison Genesis, 64pts
3. Kristian House, JLT Condor presented by Mavic, 54pts
Chain Reaction Cycles Points Classification, Final Standings
1. Madison Genesis, 112pts
2. One Pro Cycling, 108pts
3. Pedal Heaven, 93pts
4. Team Raleigh GAC, 78pts
5. NFTO, 62pts
6. SportGrub Kuota 57pts
7. Velosure Starley Primal, 55pts
8. JLT Condor presented by Mavic, 49pts
9. Team Wiggins, 34pts
Matrix Fitness Grand Prix Series, Round 5, Bath,
Individual Result
1. Dani King, Wiggle Honda
2. Jessie Walker, RST Racing
3. Charline Joiner, Team WNT
Combativity Award Winner, round five
Dani King, Wiggle Honda
Sprints Winner, round five
Dani King, Wiggle Honda
Team Winner, round five
Team WNT
Final Team Standings
1. Pearl Izumi Sports Tours International, 198pts
2. Team Giordana Triton, 184pts
3. Team WNT, 158pts
4. Team Jadan, 56pts
5. Team USN, 49pts
Final Individual Standings
1. Nikki Juniper, Team Giordana Triton, 90pts
2. Jessie Walker, RST Racing Team, 89pts
3. Charline Joiner, Team WNT, 87pts
Final Sprint Standings
1. Nikki Juniper, Team Giordana Triton, 33pts
2. Jessie Walker, RST Racing, 25pts
3. Lydia Boylan, Team WNT, 16pts
Video: Secrets of the toolbox - JLT Condor
Thank you for reading 20 articles this month* Join now for unlimited access
Enjoy your first month for just £1 / $1 / €1
*Read 5 free articles per month without a subscription
Join now for unlimited access
Try first month for just £1 / $1 / €1