Marcel Kittel's Twitter response to Andriy Grivko punching him in the face is absolutely perfect
Marcel 'Drago' Kittel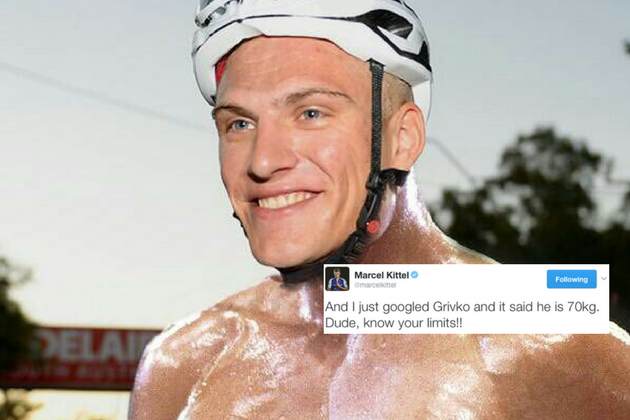 To trot out a tired cliché, Germans aren't exactly well-known for their sense of humour (although come to think of it, neither are Ukrainians).
But try telling that to Marcel Kittel, who came up with a perfect response to Andriy Grivko after the Astana rider punched him in the face on stage three of the Dubai Tour.
Only an hour or two after the stage finish, and Kittel had already been busy on Photoshop, super-imposing a picture of his head onto the body of Ivan Drago, the rival of Rocky Balboa in the Rocky IV film.
Nicknamed the Siberian Express, Drago hits the scales at 118kg, significantly heavier than the 70kg Andriy Grivko, who would be fighting in the middleweight division if he fancied a change of sport.
(And just for reference, Kittel weighs in at 86kg, so would be more than a match for Grivko.)
Perhaps Grivko could fill his time with a bit of boxing if Marcel Kittel's call for him to be banned for six months is listened to by the UCI.